If you're looking for new toys for your kids, you should consider purchasing wooden toys.
These are great because they'll give you some nostalgia for the toys you played with during your childhood, but they have benefits for your kids, too.
Are wooden toys safe?
One of the biggest reasons why kids should play with wooden toys is because they're safer than plastic ones – they don't break easily.
With that in mind, let's check out 10 of the best wooden toys that kids will love.
These are safe and healthy while being tons of fun.
Don't assume that wooden toys are boring or old-fashioned – they've come a long way!
Painted Wooden Blocks
Don't worry – the paint on these wooden blocks is all natural.
They come in various shapes that kids will love to build with, and what's great is that they look like pretty, colourful stones.
Made by Jacques London, these building blocks will teach your kids various skills while they play with them, such as how to balance items and how to tell different colours apart. A set of blocks costs £9.99.
Wooden Carpenter Set
Children are curious and love to learn while they play, so get them this Junior Carpenter Set and see their creativity come to life.
This is a smaller version of a real carpentry set, filled with a variety of tools, such as mallets, screwdrivers, a hammer, and more. Any tool that would be sharp in real life has been filed down so that it can't pose a danger to your kids.
This set is appropriate for kids who are eight years old or older and costs £29.99.  
Build A Bee Hotel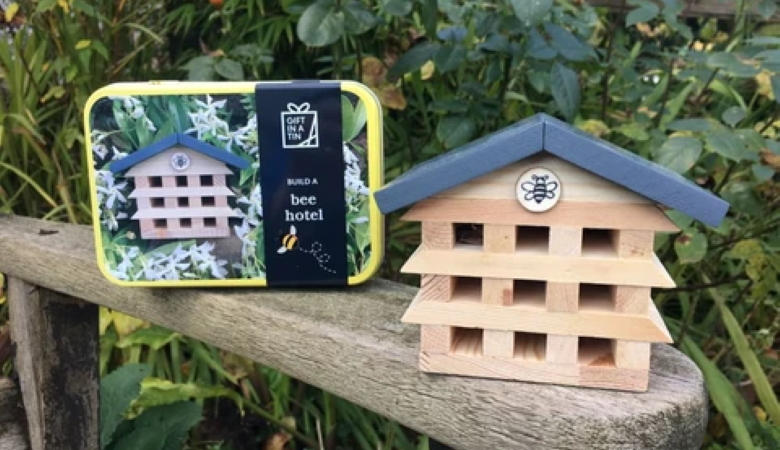 This is a fun project that your kids will love doing with you on the weekends.
It's a kit that kids use to build a wooden home for bees and other insects in the garden. To make it easy for kids to learn how to build the bee hotel, it comes with instructions.
You'll also like that the toy comes with information about bees so kids can learn about them while building them a house. This Build A Bee Hotel kit costs £11.99.
Wooden Pet Dog
If you want to give your kid a virtual pet but you don't want them exposed to apps because they're still so young, a wooden pet dog that actually moves will thrill them.
This Hape Pepe Pull Along Dog is a wooden dog (made with FSC-certified wood) that has rubber-rimmed wheels attached so that your kid can pull it along – and learn how to balance it in the process.
This toy dog doesn't just walk, it can also wag its tail and sit up to beg for a treat! It costs £16.99 and is perfect for kids who are between the ages of one and three years.
Baby Rollercoaster
This Hape Double Bubble is a fun bead maze that displays lots of bright colour to help kids use and sharpen their motor skills as well as hand-eye coordination.
To use it, toddlers will have to guide beads along with the twists and turns of the toy's loops, which resemble a rollercoaster. It comes with suction cups to keep it stable while kids play and you'll love that it's free of BPA and lead.
The Hape Double Bubble costs £15.99.
BeeHive Toy
This beehive toy by PlanToys is a cute wooden toy that comes with small bees in different colours and small hives in which to put them.
The use of colours can help to teach small children about the different colours in the world around them because they'll have to put bees into their coloured hives.It also comes with tongs that
they can use to remove the bees from their hives, which will enhance their motor skills. You can purchase it for £23.95.
Wooden Food Toys
Teach kids about food groups and eating healthy by introducing them to the Carlorbo food toy. These wooden toys come in fruit and vegetable shapes that look realistic and have been painted with eco-friendly paint.
They're fun because they have been cut into two pieces which are held together with magnets. Kids can use the wooden knife in the set to slice the fruit and vegetables, and then join the pieces again. This food toy costs £20.99.
Wooden Dollhouse
You can't get your kids wooden toys without thinking about dollhouses! These are such a staple for childhood and the Melissa and Doug Fold & Go Dolls House is extra special. It can be folded up to make it portable.
It's got pretty colours on display and comes with various items, such as staircases and furniture. There are 11 pieces that children will be able to play with and arrange inside the house to keep them entertained. This wooden dollhouse costs £37.99.
Wooden 3D Dinosaur
If you think wooden toys are boring, this 3D dinosaur puzzle will change your mind. It's best for kids who are eight years old or older. They'll enjoy building this puzzle that will encourage them to think and solve problems.
But, what's really entertaining is that it can be controlled. Clap once and the wooden dinosaur will move forward, clap twice and it will turn right, and then clap three times and it will move left.
The ROBOTIME Mammoth 3D Wooden Puzzle Jigsaw costs £26.99, and you can choose different types of dinosaurs, such as T-rex, triceratops, and mammoth ones, depending on which one you think your kid will love.
Coffee Maker Toy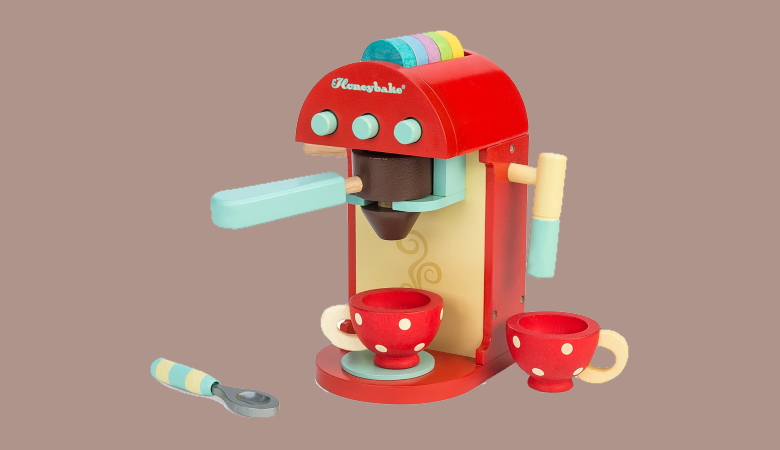 The Le Toy Van Honeybake Cafe Machine comes in bright and attractive colours and looks like a real coffee machine.
It comes with two wooden spoons, cups, a milk frother, and pods that can be placed inside the removable filter – yup, it's built to be as realistic as possible. It's got beautiful water-based paint that's non-toxic.
Best of all, since all the pieces are made out of wood, this coffee maker toy will encourage kids to use their imagination. Making "coffee" for all their friends will help to boost their social skills from an early age. It costs £29.95.
Why Should You Buy Your Kids Wooden Toys?
There are many good reasons to give your children wooden toys. Here are some to consider the next time you go shopping for new toys.
Wooden toys are better than plastic toys. We all know that plastic is bad for the environment, especially because plastic releases chemicals.
Wooden toys that are made from quality wood and are painted with eco-friendly paints are healthier for your kids. It's also easier to recycle wood than plastic. Just make sure that the wood is certified and sourced sustainably.
They're less of a choking hazard than plastic. If your small children love to bite on things, such as their toys, you'll want to ensure that you give them wood instead of plastic.
While plastic can break easily and pose a choking or injury risk, wood is more durable and won't break. Just make sure that you choose high-quality wooden toys!
They spark kids' imaginations. Devices can drain your kids' creativity, so giving them wooden toys can help them to think creatively and use their imagination much more than if their eyes are always glued to their screens.
They're budget-friendly toys. Wooden toys don't break easily, which makes them last longer. This means that you won't have to purchase new toys too regularly as they will last for many years.
They help children relax.
Wooden toys can help children to feel calmer, and this is because research that was published in the International Journal Of Environmental Research And Public Health found that just touching wood can help one to feel more relaxed, especially when touched with the palm.
They can help kids to focus on. Since they don't have lots of distracting features, simple wooden toys can help kids to remain peaceful and concentrate on their tasks during playtime. This can foster a better learning environment.
Related Questions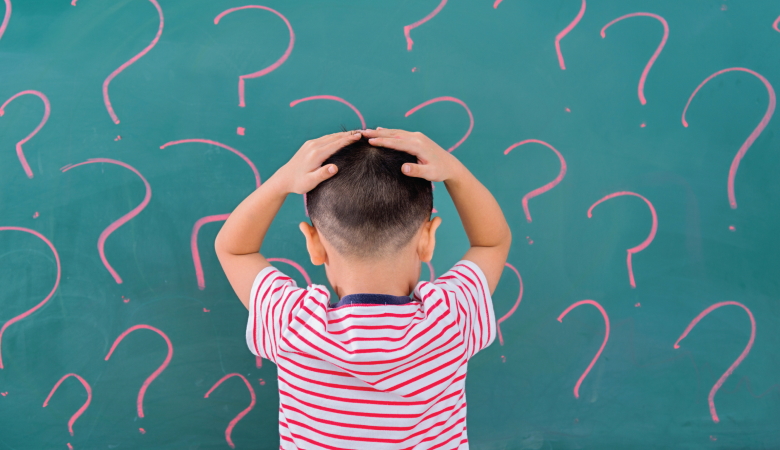 What wood are children's toys made out of?
Usually, wooden toys are made out of wood such as maple, beech, cherry, and pine.
Are wooden toys naturally antibacterial?
Wooden toys naturally resist bacteria because of their porous surface that absorbs moisture and bacteria so that it doesn't remain on the surface and multiply, such as in the case of plastic.
How should you store wooden toys?
Keep your kids' wooden toys in plastic boxes that have a lot of ventilation. This prevents mould from growing on the toys. It's also good to keep a cotton sheet in the box to absorb moisture.
Conclusion
Instead of giving your children plastic toys that can be bad for the environment, you should purchase wooden toys for them.
In this article, we've looked at some of the best wooden toys to buy in the UK, as well as why they're good for your kids.
Resources
International Journal Of Environmental Research And Public Health