If you've got lots of shoes but not enough space in your apartment to store them, you'll need to find some creative shoe storage ideas.
How many pairs of shoes does the average person have?
In the UK, the average man and woman both own approximately 19 pairs of shoes.
That's many pairs to try to find storage space for!
With that in mind, let's see this list of the 13 best shoe storage ideas. They won't create clutter in your home or take up unnecessary space.
13 Best Shoe Storage Ideas To Save Space And Time
The last thing you want to have to deal with is misplacing your shoes or battling to find the pair you want when you're in a rush.
Not having the right shoe storage can waste your time and take up lots of space in your bedroom that could go to other things. To prevent such problems, here are 13 easy and creative ways to store your shoes, especially if you don't have wardrobe space for them.
Repurpose A Bench
If you have a bench in your home that you don't really use, you can easily transform it into shoe storage, as long as it has shelves underneath it. If not, you can add those yourself so that you can pack your shoes on them.
The great thing about this is that you can still use the bench for sitting down, so it's a multitasking piece of furniture that's perfect for the bedroom or entryway. Really short on space? Use an L-shaped bench that can fit into corners so it really stays out of the way.
Buy A Shoe Tree
A shoe tree is an object that has a central bar around which are hooks to hang your shoes. Some look really sophisticated, like what you'd find in an expensive shoe shop, because of how they're made with chromed steel.
They're great for putting anywhere in a room and don't take up a lot of space. A good one to try is the Honey-Can-Do spinning shoe rack as it can hold up to 24 pairs of shoes.
But, a shoe tree can also refer to items, often made out of wood, that look like small shoes which you stuff into your shoes so that you maintain their shape. While you might like that idea because they store and protect your shoes, you'll have to find places where to store them.
Under-The-Bed Storage
The area underneath your bed usually goes to waste, but you can put it to good use by storing your shoes there.
Instead of merely kicking them underneath your bed at the end of a long day, purchase a fabric organiser.
This will keep your shoes in good condition and make it easier than ever to find the pair you need when you need it. If you don't have a shoe organiser, keep the shoes underneath your bed in clear plastic boxes so you can see which ones are where immediately.
Consider A Rolling Rack
If you own many pairs of shoes and you don't have any more space anywhere in your apartment, a rolling rack can come to the rescue. You can place this rack anywhere, as it slots neatly into tight corners.
Don't want to buy a rolling rack? Consider repurposing a bar cart to store your shoes.
Create More Space With A Pocket Organiser
Imagine if you could hang your shoes in a hanging pocket organiser that you can then place behind the bedroom door so it's out of sight? This pocket organizer achieves that convenience.
It's a pack of two over-the-door shoe organisers that have strong stainless-steel hooks and breathable mesh so your shoes won't become stuffy.
Prop A Ladder Against The Wall
A ladder's rungs can easily become storage space for your shoes. Simply prop an old ladder against the wall and you'll have shoe storage that's out of the way. You can also make the ladder look more attractive by painting it in a pretty colour so it becomes a piece of decor for your bedroom.
Buy A Boot Storage Rack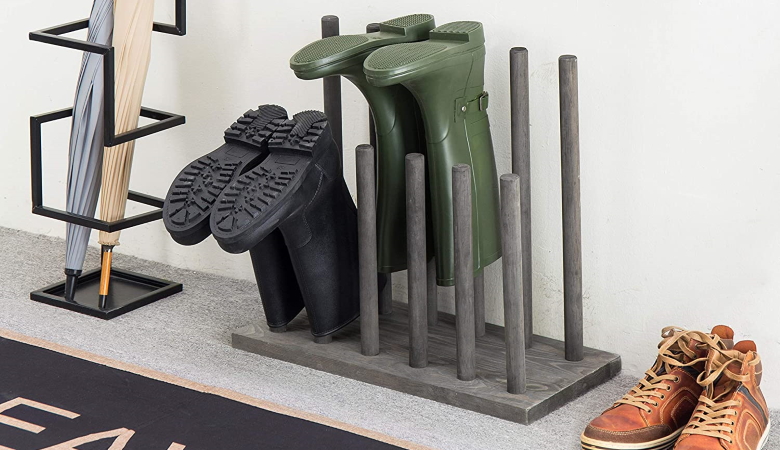 When you enter the house after having been in the rain or mud, your boots will have collected lots of dirt that you don't want getting into the home.
A storage rack with dowels can help you to easily store your boots in the entryway so that they're within easy reach the next time you need them.
Recycle An Old Bookshelf
If you have an old bookshelf that you're not using to store books, why not use it for shoes? It's even better if it has glass doors as this will protect your shoes from collecting dust and make the bookshelf look sophisticated. This is a fantastic way to upcycle old bookshelves into cupboards.
Use Wood Pallets
You might not consider using wood pallets for your shoes, but they're great – especially if you need a handy place to store your sneakers. You can find online tutorials to make your own shoe pallets.
Consider Wire Baskets
Wire baskets can be hung up on the wall or behind closet doors and they'll keep your shoes out of the way, preventing clutter in your room.
Since they're made of wire, you can also see through them so that you'll immediately be able to find the pair of shoes you want to wear at a glance.
Install Floating Shelves
Floating shelves can be a great way to add extra storage space for shoes in your bedroom. A few shelves on the wall will provide the perfect place for you to keep your favourite pairs of shoes that you use most often, and since they're floating they'll free up precious floor space.
Turn PVC Pipe Into Shoe Organisers
If you have some old PVC pipes lying around, you can turn them into an unusual but effective shoe storage solution. Simply cut the pipes into rolls and keep your shoes in them. You can even pile the pipes on top of each other to give them an almost ornamental feel.
Go one step further by wrapping the pipes in pretty wallpaper to make them look appealing. You can find out how to make your own PVC pipe shoe organiser by checking out this Home Stories tutorial.
Make A DIY Cardboard Shoe Rack
Everyone's always got some cardboard lying around the house, even if it's in the form of empty food boxes. If that applies to you, another easy DIY project you should try if you need to find more storage space for your shoes is to make a shoe rack out of cardboard.
All you need to do is use cardboard pieces to make triangular shapes big enough for your shoes, and then use sticky tape to maintain their shapes. Fit your shoes inside these triangles and you will have instant shoe storage. You can find the complete tutorial on A Piece Of Rainbow.
How To Keep Shoes In Good Condition When Storing Them
When you store your shoes, you need to ensure that you don't damage them.
By now, you have some good tips and products to help you store your shoes in a better way, but let's explore some extra shoe storage tips.
Use wooden shoe horns for long-term shoe storage
While using racks can be useful for shoes that you wear regularly, you want to store your shoes on wooden shoe horns for the long term.
This is because they maintain the shape of your shoes. If you've just worn shoes that you want to put into long-term storage with the use of shoe horns, wait a day or two so that any moisture in the shoes evaporates.
Stuff your shoes with paper
You should put acid-free paper into your shoes when storing them as this also helps your shoes to maintain their shape. An alternative to acid-free tissue is unbleached muslin. This helps to prevent moisture from damaging your shoes, therefore increasing their lifespan.
Never pack your shoes away when they're dirty
You get home after a busy day and kick off your shoes. You ignore that they're dirty and pack them away in their storage bin or on their rack. Although you're tired, stop and clean your shoes! If you don't, dirt will crust over on the shoes and can damage them.
You must always clean your shoes properly before putting them away. This will not only ensure that your shoes always stay in good condition but they will prevent making other items in the shoe rack or closet dirty.
Cleaning Tips For Shoes
To clean fabric shoes, wipe them with a dry paper towel and then, with the use of a toothbrush that's been dipped into a solution of two cups of warm water and a teaspoon of dishwashing liquid, gently brush dirty areas on the shoes.
Make sure you work with, not against, the fabric grain. Carefully make your way around the shoe so that you don't end up with blotches. When you're done, wipe the shoe with a damp paper towel, then use a dry paper towel to blot it dry.
To clean leather and faux leather shoes, you should wipe away any dirt with a cloth that you've dipped in a solution of equal parts distilled white vinegar and equal parts cool water. Let the shoes dry.
To clean athletic shoes and tennis shoes, put them in the washing machine with a heavy-duty detergent. However, always make sure you first remove the laces and inner soles. Once the shoes have been washed, air dry them.
You should never put them in the tumble dryer as this will be too hot for them, causing them to become damaged. As for the soles, the best way to clean them is to wipe them with disinfectant regularly to prevent bacteria and fungus from growing and causing unpleasant odours.
Related Questions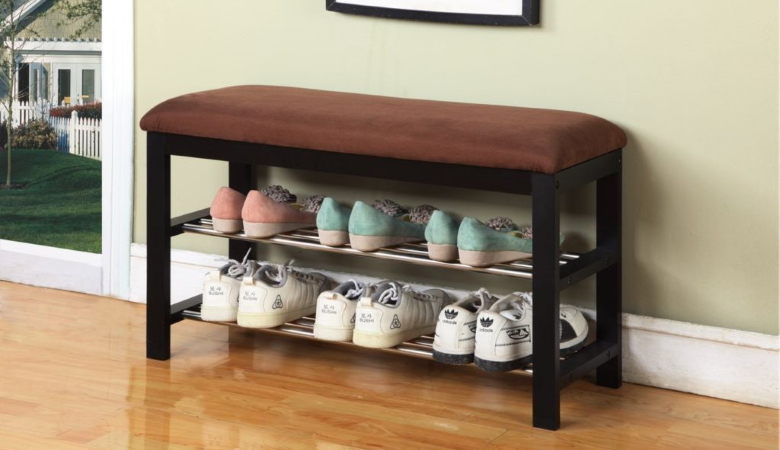 Can you just store your shoes in their original boxes?
Yes, but you might battle to know which shoes are which. Therefore, take pictures of your shoes and stick them on their respective boxes. This will help you better identify your shoes without having to open the shoeboxes every time you're trying to find a pair.
How do you clean suede shoes?
Suede should be cleaned with talcum powder. Apply it to the stain and let it work overnight. The next morning, carefully brush off the debris and the talcum powder.
How long can your shoes last?
Generally, shoes that you wear every day can last for between eight and 12 months. Athletic shoes tend to last for less time as a result of their demanding usage.
Conclusion
Whether or not you have a lot of shoes, they can take up a lot of storage space in your wardrobe. This is especially the case if you live in a really small apartment or home, so you will have to come up with creative shoe storage ideas that don't depend on your closet or cupboard.
After reading this article, you now have some easy and space-saving ways to store all your favourite pairs of shoes so you know exactly where all your shoes are without them getting in the way.
Resources
FashionNetwork.com
LifeStorage.com
TheSpruce.com