If you have a bike, you know how it can get in the way of your living space.
You might always bump into it when you walk into the garage or feel like it's an eyesore. You might even be doing damage to your bike if you're storing it incorrectly.
Should you store your bike by the wheels?
Professional bike riders and bike shops all hang bikes by their wheels and this doesn't seem to be a problem.
With that in mind, there are creative and space-saving ways to store your bike at home. This will also help you keep it in great condition so it's always ready to go when you want to go for a ride.
Where Should You Put Your Bike?
You're not limited to storing your bike in your garage, although that is a good idea because it keeps your bike out of your main living space.
Let's see why the garage is a good choice, but let's also explore other ways in which you can keep your bike safe and out of the way.
Here are some ideas of where to keep your bike.
This is probably the first place where you'd like to store your bike. It makes sense if you have enough space, and the bonus of putting your bike in your garage is that you usually have a lot of wall space. You could even make use of a ceiling hoist if you don't use the bike regularly.
A shed can be a great place to store your bike. Just make sure that it's locked and has an alarm so that you can keep your bike safe from theft. If you have many bikes in your household, these can also conveniently be stored in your garden shed.
In the home. There are various ways in which you can store your bike in the home, whether you put it up on the wall or keep it in the corner. For this, you'll need to make use of bike storage items, such as racks or stands. You could even turn your bike into a work of art by hanging it up on the wall with the use of a decorative shelf.
Or, keep it portable with a bike tent. Here's something different. If you want a portable and budget-effective way to store your bike, a bike tent can be used when you're on the go. While these are great if you're travelling by your bike or you're a cyclist on a tour, you might want a more permanent solution.
Five Best Ways To Store Your Bike
Install A Bike Hoist In The Garage
If you don't use your bike that often, a hoist can be a great way to keep it safe and out of the way.
These hoists are versatile because you can use them to store other items, such as kayaks, and you can even hang them over your cars for the ultimate space-saving solution. That said, hoists can be tricky to mount and could be a bit challenging to use, so they're not ideal for beginners.
Use A Door Rack
If you want to store your bike in a room of the house that doesn't experience much traffic so it's completely out of the way, you can make use of a door rack. How this works is that it includes a hook that slides over the top of a door and remains in place thanks to the bike's weight.
For an example of a product, check out the Gear Up Off The Door rack available on Tredz.
Make Use Of A Bike Rack
If you need a portable solution for storing your bike, a good choice is the Gravity Bike Rack by Racor available on Amazon. You can use it to hold two bike frames and it gets attached to the wall via a drywall screw.
It's especially useful if your home doesn't have a garage.
You can find other bike racks to suit your needs. For example, if your household has bikes with different types of frames, it's not easy to store them all in the same place. A wall rack such as the Velo Wall Rack by Feedback Sports offers sliding arms so that you can fit any bike frame on them.
Put It On The Wall
Sometimes the best way to store your bike is to make it work as a decorative item in the room. Hang it on the wall in the lounge or bedroom where it can be a piece of art.
While you can make use of the humble wall hook, you might want to make it look more like part of the decor. In this case, a wall shelf that has a trendy design on it is a good choice. The Bike Shelf is worth considering. You can purchase it on Knife & Saw.
If you just want a simple way to put your bike against the wall, you can purchase a wall hanger, such as the Ibera Horizontal Bike Wall Hanger available on Amazon.
You can adjust its frame holder arms to make them wide or narrow, and you can also raise or lower either end of the bike with this wall hanger.
Keep It In The Corner
A bike stand is a good alternative to a bike rack because you can use it anywhere in the room. These stands usually accommodate two bikes. They're great for renters because you don't have to drill any holes in the wall or ceiling.
However, they can be a bit expensive. A good bike stand to purchase is the Feedback Sports Velo Column 2 available on Wiggle.
Extra Tips For Storing Your Bike
There are some important things to bear in mind when you're trying to find the best place to store your bike.
Here are some to consider.
Consider the bike weight. You can't just use any wall rack for your bike without first consulting its user guide to be sure that you're not exceeding the rack's weight limit for your bike. The last thing you want is for your bike to fall off the wall!
Consult with your landlord. If you're a tenant, putting your bike on the ceiling or wall will usually require equipment to keep it secure, which could result in marks and scuffs, so always check with your landlord before installing your bike in these places.
Keep your bike secure. If you're storing your bike in an area where other people are, you might worry about security, such as if your roommates regularly have guests over. That's why it's good to choose bike mounts that have locks.
Keep it clean. Think about how you're going to store your bike after you've taken it out on the road. Your bike might be dirty and it's not always easy to give it a thorough clean, although a wipe-down is essential whenever you've taken your bike indoors. Go the extra mile by looking for bike racks that have plastic parts to prevent the tires from making contact with the walls or floors, or racks that extend from the wall. These tips will also help you prevent leaving marks on the wall, so they're landlord-friendly.
Ensure you have enough space. Generally, if you're putting your bike on the wall or floor, you should always ensure that you have a length of at least 20 inches so that your bike will have enough space.
Related Questions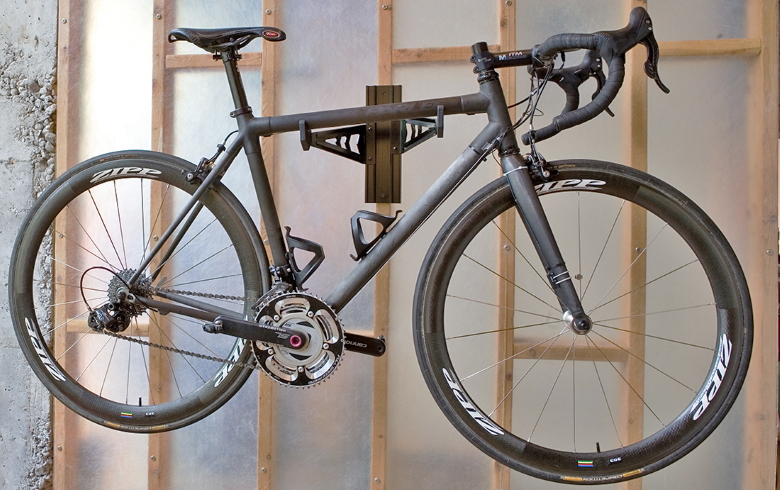 Should you inflate your bike's tires before hanging it?
This is important so that you prevent the bike rims or tires from being damaged.
Can you keep your bike on the balcony?
If you're really short on space, this could work. Just make sure you chain it to the balcony railing to keep it safe and invest in a quality bike cover.
What bike storage uses the least amount of space?
Choosing a bike rack that stores your bike in a vertical position is the one that will take up the least amount of space, so consider it if you have a really small living space.
Conclusion
Your bike was expensive to buy and you want to keep it in good condition. That's why you need to find the safest bike storage solution. The bonus of this is that you'll free up valuable space in your small home or apartment.
In this article, we've featured some creative bike storage ideas so you don't have to keep bumping into your bike that always seems to be in the way. There are tons of ways in which you can store your bike so that you have quick and easy access to it when you want to go for a ride.