If you have carpets in your home, a carpet cleaning machine is essential.
Carpets are breeding grounds for bacteria, germs, pet dander, and dust mites, so they need to be cleaned regularly.
What is a carpet cleaner?
A carpet cleaner makes your cleaning chores easier because of how it contains a powerful brush head and cleaning solutions to remove dirt and pollutants from your carpet.
Many carpet cleaners will be able to make your carpet look brand new and make you feel like you've had your carpet professionally cleaned.
With that in mind, let's look at what carpet cleaners can do as well as what are the best carpet cleaners on the market.
How Is A Carpet Cleaner Different From A Vacuum Cleaner?
A carpet cleaner gives your carpet a deep clean as it removes dirt, debris, stains, and bacteria quickly and effectively.
By comparison, a vacuum cleaner doesn't contain cleaning solutions and therefore is only ideal for fast, light cleans, such as removing loose debris.
So, if you have carpets in the home, you should invest in a carpet cleaner that's powerful enough to clean them thoroughly and keep them nice and fresh.
How Does A Carpet Cleaner Work?
A carpet cleaner contains two tanks in its design, which are integral to the way in which it works.
The clean tank contains a cleaning solution and water so that when you activate the trigger on the machine the solution will be released into the carpet so that it can be cleaned. The second tank is the dirty tank.
This captures the solution you sprayed onto the carpet, as well as all the dirt the solution has lifted from the carpet fibres.
Best Carpet Cleaners For Your Home: Which One Should You Choose?
Let's take a look at some of the best carpet cleaners on the market so you can keep your carpets clean and hygienic.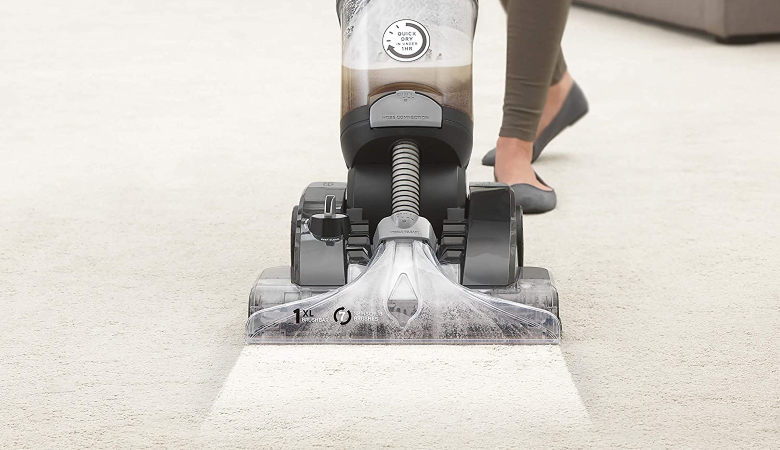 This carpet cleaner is a recommended product because of its excellent features.
It's got a pre-treatment wand that lets you tackle deep stains and a hose that's about four metres in length to make it easier to clean in hard-to-reach spots, such as on the stairs or around corners.
It comes with a hard floor cleaning tool and an upholstery attachment. The latter is especially useful when you want to clean items such as your sofa.
This carpet cleaning machine ensures healthier carpets because of how it removes up to 93 percent of bacteria. It's both easy to use and lightweight, and costs £249. As a bonus, it comes with a six-year guarantee.
Buy it if: you need a machine that can be easily moved around and get to difficult-to-reach areas, whether on carpets or hard floors.
The Bissell Compact HydroWave comes with useful settings, such as "deep clean" and "express clean."
When tested, the express-clean option removed stains in just one pass.
This carpet cleaner has a thin head so you can get into hard-to-reach spots in the home. You can expect your carpets to be dry within just half an hour if you use the "express clean" function.
And, with its pre-treat feature, you can treat stains before using the deep cleaner to eliminate them easier.
This carpet cleaner comes with a telescopic handle, which makes it convenient to store. You can purchase this carpet cleaner for £249.
Buy it if: you have a lot of carpets in your home, or you have pets, kids, or all of the above!
This is a small, compact carpet cleaner that's perfect for when you need to clean upholstery and carpets in your home.
It contains tanks with good capacity so that you can get a large area cleaned before you need to top up on the water and cleaning solution.
It's got a motorised brush that allows the product to penetrate deeply into the carpet's fibres.
This carpet cleaner is equipped with wheels to make using it on carpeted floors a breeze, and it has a retractable handle for easy storage as well as greater portability.
The retractable handle has another benefit: you can use it to focus on specific areas of the carpet that you want to clean, which makes it ideal for removing stains.
Buy it if: you want a carpet cleaner that's easy to move around and use, and is specifically designed to target stains.
This carpet cleaner is great for cleaning rugs and carpets.
It removes stains, such as those of mud, without much effort. You'll love that it's lightweight so it's easy to move around.
It's very easy to assemble so you can start using it soon after unpacking it. It also comes with good instructions.
People who have purchased this carpet cleaner have reported that it works well to remove stains that have been on the carpet for many years. This carpet cleaner is budget-friendly, as it only costs £99.99.
Buy it if: you don't have much time to clean the carpets in your home and want a fuss-free solution.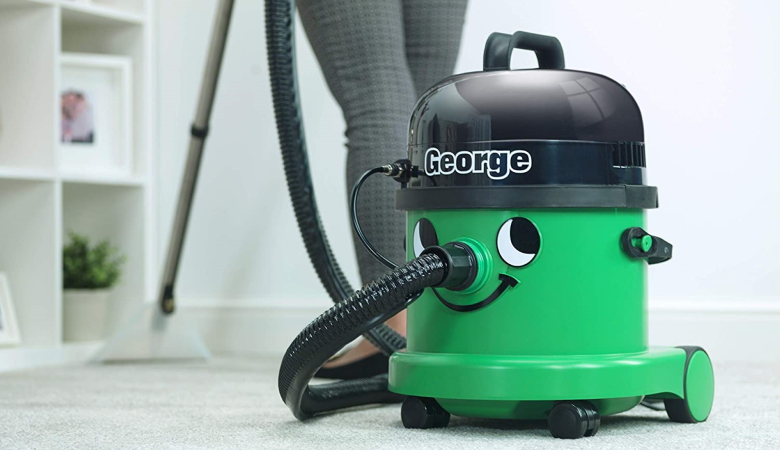 This is a powerful carpet cleaner that lifts dirt without leaving the carpet very wet, which means that it won't take a long time to dry.
Not just for your home, you can use its upholstery attachment to clean your car. This carpet cleaner can also clean hard floors.
It has other attachments you'll love – one for liquids and one for unblocking your sink! It's definitely one of the best carpet cleaners to invest in because it's so versatile.
People who have bought this carpet cleaner have reported that it has excellent suction power and it's a great wet/dry cleaning machine to own.
Buy it if: You want to be able to clean both carpets and floors in your home, as this machine is a versatile one. Definitely buy it if you need to be able to clean your carpets quickly without them taking a long time to dry.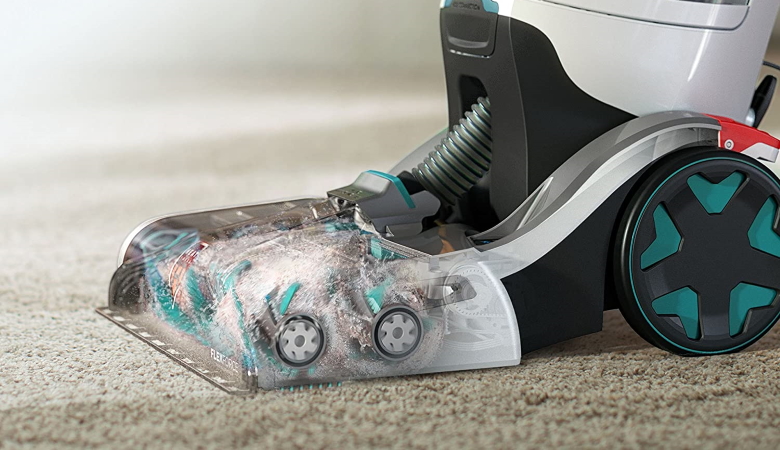 This Hoover model makes it easy to clean and dry your carpets because you can activate its cleaning function by pushing it forward and pulling it back to activate its drying feature.
It also makes your carpets dry at a fast rate, thanks to its "auto dry" feature. This makes use of HeatForce technology to ensure faster extraction of the liquid solution.
Since it dries the carpet very quickly, this also prevents a damp smell from lingering in the room after you've cleaned it.
This carpet cleaner contains powerbrushes that will remove dirt, debris, and also pet messes. In fact, if you're a pet owner you'll love that it comes with an antimicrobial pet tool included.
It also has an eight-foot hose to make it easy to move the carpet cleaner around and reach into tight spaces. You can purchase this Hoover Smartwash carpet cleaner for £249.99.
Buy it if: you want an easy way to clean and dry your carpets, and need fast drying time. You should also invest in this carpet cleaner machine if you have pets as it will ensure that your home stays hygienic.
Important Features To Look For In A Carpet Cleaner
To be sure that you get the best carpet cleaner for your home, it's important to consider some essential features.
These include the following:
Fast drying mode. You want to ensure that the carpet cleaner will allow your carpet to dry quickly after use. Some models come with a "quick-dry mode." This uses less water so that you can get a lighter, faster clean and a shorter drying time.
Long cord/hose. If you have a large area or hard-to-reach places that you want to clean, such as stairs, you should look for a carpet cleaner that has a long cord or hose.
Two tanks. Some carpet cleaning machines will only have one tank where the water and cleaning product is combined, but it's worth looking for a carpet cleaner that contains two separate tanks – especially if the machine premixes the two ingredients, as this makes your job easier.
Lightweight models. It's worth bearing in mind that adding the cleaning solution and water to the cleaning machine's tank before use can add between six and 15 pounds in weight to the machine. Therefore it's worth looking for a machine that's as lightweight as possible. This will make it much easier to move it around and use.
How Often Should You Use A Carpet Cleaner?
How often you should deep clean your carpet with the use of a carpet cleaner will vary depending on various factors. You should clean your carpet more regularly if you have pets, kids, you smoke, or your carpets experience a lot of daily traffic.
If you or someone in your household has allergies or a respiratory condition such as asthma, you should also clean your carpets more regularly to prevent irritations and allergy triggers.
Aim for cleaning your carpets once every three months, or more frequently if required.
If the previously-mentioned factors don't apply to you, then you'll only have to clean your carpets with a deep-cleaning carpet cleaner twice a year.
What About Dry Cleaning Powder?
If you're looking for an alternative carpet cleaning solution, you should consider a dry cleaning powder.
One to try is the Clean Living International dry carpet cleaner.
It's natural and PH-neutral, and can be used on all types of carpets. It's been made out of soft fibres that are biodegradable and damp so that they can dissolve dirt in carpets.
You should use this powder as soon as it has dirt, debris, or spills on it.
It's really easy to use. Just empty the cleaning solution from the packet and then use the included brush to work the solution into the carpet. After leaving it to work for a few minutes, you can use your vacuum cleaner to clear it away.
This Clean Living International carpet cleaner costs £7.00.
While a dry cleaning powder can be useful and does have many benefits, such as providing an eco-friendly way to clean your carpets, it does require a bit more effort than using a carpet cleaner.
It also requires that you use a vacuum cleaner afterwards, so you won't be able to get around using a cleaning machine to clean your carpet effectively.
Related Questions
Can you use a carpet cleaner on hard floors?
Some carpet cleaner models enable you to clean hard floors with them, but others don't. Make sure you check the product specifications before purchasing it.
Are carpet cleaners loud?
While a vacuum cleaner can produce 70 decibels of noise, a carpet cleaner can produce 80 decibels, which is twice as loud. It's therefore good to protect your ears while using a carpet cleaner.
Conclusion
While you might reach for your vacuum cleaner when you need to clean your home, it's essential to purchase a carpet cleaner if you have carpets.
This machine can make your job so much easier and cleans carpets much more thoroughly because of how it sends cleaning solutions deep into the carpet's fibres.
In this article, we've looked at why carpet cleaners are so beneficial and what to look for when shopping for carpet cleaners.
We've also looked at the best carpet cleaners on the UK market to help you find the right one for your home and needs.
Resources
GoodHousekeeping.com
Independent.co.uk
CleanLivingInt.com
ConsumerReports.org