When it comes to chimneys and fireplaces, everyone always talks about the mantelpiece.
This is usually the hotspot for adding decorative touches to your home to enhance the overall appearance of your fireplace. But the chimney breast should also be considered.
What, exactly, is the chimney breast?
The chimney breast is a wall that encases the chimney. It juts out a bit to accommodate the fireplace.
While some homeowners choose to remove their chimney breasts, there are ways you can use them in creative ways. Bear in mind some people actually install fake chimney breasts, so if you have one in your home don't neglect it because it has the power to give your room so much more personality.
Let's explore some of the best ways to boost your chimney breast.
How To Use Your Chimney Breast In Creative And Practical Ways

Creative: Turn It Into An Accent Wall
If you paint your chimney breast in a striking colour, you can turn it into a type of accent wall or focal point in the room.
When painting an accent wall, bear the following tips in mind:
Make sure it makes sense to paint the chimney breast in an accent colour. When you walk into the room, are your eyes drawn to the chimney breast or not? If not, maybe it's not a good idea. You want the accent wall to draw your attention.
Contrary to popular belief, you don't have to stick to just one colour for the accent wall. You can use multiple colours. You could choose to paint the chimney breast in stripes or geographic shapes, for example.
Use similar tones to the rest of the room. While you want the accent wall to stand out, you don't want it to look odd or like it doesn't fit in with the other walls and decor – that's probably what you dislike about your chimney breast in the first place! A pro tip when choosing the right accent wall colour for your room is to ensure that it has undertones that are in the rest of your room, like on the other walls.
Creative: Cover It With Wallpaper
Whether or not you're a fan of wallpaper, applying it to just the chimney breast and leaving the alcoves and walls in the room painted is a clever way to add more style to your home while putting a neglected chimney breast to good use.
When doing this, a good idea is to paint your alcoves in a pale colour to work with the rest of your room.
However, there are no hard and fast rules – if you want to go for a more dramatic effect, choose a darker colour so that the alcoves will recede a bit and make the chimney breast even more of a focal point in the room.
There are other things you can do. If you want to accentuate the chimney breast even further, go ahead and paint it while applying wallpaper to the room's walls.
Or, experiment with using two different wallpaper colours and/or patterns – one goes on the chimney breast while the other one goes on the room's wall behind it.
This works well to create visual appeal. Just make sure that the rest of the room's decor works with the colour tones that are in the wallpaper for a balanced effect.
Creative: Tile It!
Here's a fun idea: why not tile your chimney breast?
This is becoming a popular way of accentuating the chimney breast and turning it into a work of art.
Make sure you use ceramic tiles, as these are heat-resistant and strong. You can also choose ceramic tiles that are a bit thicker to give you even greater durability.
Don't be afraid to use colour, such as a mixture of blue and green tones to make the chimney breast look artistic. Make sure that these tones pop up in the rest of the room's decor to provide balance. Glossy tiles can work well to create an elegant effect.
Creative: Expose The Brickwork
Another way in which you can make the chimney breast and its alcoves look stylish and contemporary is to plaster the chimney breast while opting for exposed bricks on both alcoves.
This will accentuate the chimney breast and make it work for the style of your room if you don't currently like it. Alternatively, do things the other way around by exposing the chimney breast and leaving the alcoves plastered.
When removing plaster on a brick wall, you should bear in mind some important tips:
You will need to use a wide bricklayer's chisel and masonry hammer as this will make it easier to chip away the plaster.
Use a hydrochloric acid solution. When applying this to the wall with a wire brush, this will remove plaster residue and clean the wall surface.
If the walls look a bit powdery or crumbly, treat them with a clear sealer. Apply it with a paintbrush. You can choose a sealer that's matte or glossy.
Practical: Let It House Your Cooker
If you have a chimney breast in your kitchen, you can make better use of the space with a bit of a renovation. Open up the part of the chimney breast wall so that you can place a counter or freestanding stove top inside it. This makes the chimney breast much more practical.
Creative: Hang Decor On It
We've already talked about using paint to give the chimney breast more personality and make it look like an accent wall, but you can also decorate it in other ways, such as by hanging picture frames or ornaments on it to make it look more stylish.
Got some decorative plates that you love to hang up in the kitchen?
Why not make an accent wall with them by using the chimney breast?
Practical: Fill It Up With Logs
If you love the rustic style of decor, an easy way to revamp your chimney breast is to fill it up with logs. This is also practical because it means you'll have the perfect storage space for logs when you want a beautiful roaring fire.
Not just practical, by filling up your chimney breast with logs will make the entire room look cosy and charming!
Practical: Mount Your TV On It
You can use your chimney breast to mount your TV – this looks good and it frees up space in your room by removing the need for TV stands.
However, when choosing this option, it's important to ensure that the temperature of the chimney breast does not go above 90 degrees Fahrenheit (32 degrees Celsius) as this can be dangerous and damage your TV.
You will also have to consider how to go about hiding the TV cables. Having them neatly placed behind the chimney breast will be ideal. To do this, you'll have to drill holes behind the TV and feed the cables through the holes.
Practical: Turn It Into A Wardrobe
If your chimney breast is in the bedroom, which is commonly seen in older homes, you might want to do something a bit more creative with it, such as when it comes to using it as storage space.
You can fit wardrobes in the alcoves on both sides of the chimney breast to make it more practical while also allowing it to blend in with the rest of the room's design.
Practical: Add Some Shelving
Whether your chimney breast is in the kitchen or bedroom, it can do with some shelving! Again, it's about fitting the shelves into the alcoves of the chimney which are built around the breast.
You can use these shelves for a variety of items, such as crockery in the kitchen and folded clothing in the bedroom. This is a fantastic way to DIY your chimney breast to make use of the vertical space in a room, and it's especially useful if you live in a small home.
Top tips for putting shelving in alcoves: 
Cut your battens, or strips of wood, to the length of the back wall.
You will have to drill and countersink screw holes through each of the battens that you're going to be using.
You can also angle the batten edges if you want them to blend into the room much better.
It's good to remember that your walls might not have perfect right angles, and this is especially the case when it comes to alcoves. So, a good tip if the alcove tapers is to use a beading to fill any gaps when the shelves have been installed.
Creative: Hang Up A Mirror
Having mirrors in the home, especially in areas where there's not a lot of space, can help to open it up and make it look larger.
So, go ahead and hang a big mirror on the chimney breast.
This will have the effect of drawing attention away from it while making it work to reflect your room so that it's enlarged.
There are some important tips to bear in mind when hanging mirrors, though.
If your chimney breast is directly opposite a window in the room, this is especially useful for hanging a mirror because it will make the space larger as well as lighter.
Don't hang the mirror too high up on the chimney breast as that will reflect things like ceilings and the top part of walls, which doesn't do much for your room.
Linked to the above point, make sure that what the mirror reflects is appealing, such as a work of art on an opposite wall or a beautiful chandelier.
Practical: Hide It!
Don't want to make the chimney breast a decorative part of the room? You can paint it in the same colour as the other walls so that you make it blend in with them and your overall style.
If you're using wallpaper on all walls in the room, use the same wallpaper for the chimney breast so it falls in line and doesn't grab any unwanted attention.
Want To Remove Your Chimney Breast?
Maybe you really don't like the chimney breast and you want to remove it. If this sounds like a good idea to you, then you need to be prepared that it's quite expensive.
When funding the cost to have your chimney breast removed, bear in mind that the amount will include other jobs such as plastering. The work will also take between one and two weeks, but it could be more.
The price for it depends on where the chimney breast is located. If it's on the ground floor or first floor, you can expect to pay between £1,400 and £2,400.
If you're removing a full chimney in a two-storey home, the cost will be a bit higher – you're looking at paying between £2,800 and £3,800.
To find out more, read, "How To Remove A Chimney Breast."
Related Questions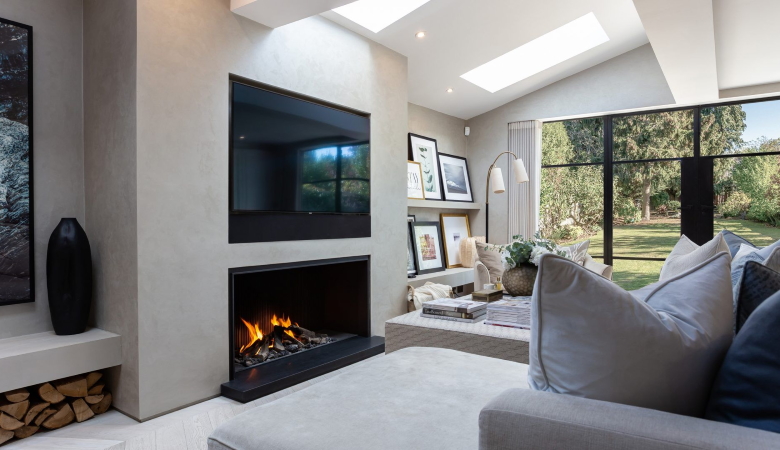 Can you seal off a chimney or fireplace?
You should never do this because it will fill the flue with condensation.
Do you need to ventilate your chimney breast?
If it's unused and you keep it, you'll need to ventilate it at the top and bottom because moisture will mix with the soot and can result in stains.
Conclusion
If you want to do something great with your chimney breast, the best idea is to decorate it in such a way that it provides a focal point of interest in your home.
In this article, we've looked at some of the best ways to decorate your chimney breast.
But, if you're set on removing your chimney breast, you'll like the included tutorial on how you can get rid of it.
Having your chimney breast professionally removed can be quite costly, so it might just be better to do something creative with it.
Resources
HomeBuilding.co.uk
SFGate.com
ReadersDigest.co,uk
IrishTimes.com