You might've heard of ways to renovate and upgrade your chimney breast, such as by turning it into a design focal point of your room with the use of wallpaper or paint.
But what if that's not something you want to do, such as because you want to free up more space in your home?
Can you remove a chimney breast?
With a bit of DIY knowledge, you can certainly remove a chimney breast, but bear in mind that it will be a messy job that creates lots of dust so you'll have to seal off the room from the rest of your home.
Even though it's possible to DIY your way to chimney breast removal, should you even try it?
Let's look at everything you need to know.
First Things First: Do You Need Planning Permission For Removing A Chimney Breast?
If you're undertaking internal alterations in your home, of which removing a chimney breast is an example, you don't need planning permission.
That said, you can't make alterations to a listed building before getting listed building consent.
There are some important rules you must follow when you intend on removing your home's chimney breast:
Your work needs to comply with the Building Regulations and it's notifiable. Basically, what this means is that you need to inform the local authority building control department and make an application.
Alternatively, you can use an independent, approved inspector who can do this task for you.
If the work is on, or close to, the boundary between your property and the neighbour's you will have to give notice under the Party Wall Act.
If you're on a leasehold property, you'll need to get permission. This takes the form of a landlord licence. In a shared freehold, the other owners will have to give their consent for the work to be done.
Can You Remove A Chimney Breast Yourself?
Now that you've dealt with the rules, you can go about removing your chimney breast, but it's important to bear some important tips in mind.
One of the most important things to know is that you will have to consult with professionals to guide you.
Removing a chimney breast means that you'll also be taking away an important load-bearing wall. So you need to be sure that the structural integrity of your home isn't put at risk. You will need expert advice on this as well as approval from your council!
You have to make sure that if you have electricity running through the wall it's turned off. If your chimney uses gas, you'll need to consult with an expert to ensure that it's turned off and properly vented.
Don't take any chances! You might also find that the gas appliances you have to use a party wall's flue in your, or your neighbour's, property. So, you'll need a Gas Safe Engineer to get proof of inspection and safety in writing before you go ahead.
Since removing the chimney breast changes the building's structure, you will need to take various building regulations into consideration before you start, including plumbing work, sound insulation, structural strength, fire safety, ventilation, electrical safety, damp prevention, and the neighbouring chimney maintenance.
When removing the chimney breast bricks, you will have to ensure you support the chimney stack.
This will need to be done with special equipment:
Option #1 – Gallows brackets, which are right-angled steel support mechanisms. For these to be used, the wall needs to have a minimum thickness of 225mm and it has to be made of solid bricks. The projecting chimney breast must not be more than 340mm thick, and the height of the brackets must be a minimum of 1.5 times the projection of the chimney breast.
Option #2 – Rolled steel joist beam, which is a common beam for structural steelwork. These are in the shape of an "I" or "H," and they come in various sizes.
The supportive structure you choose is dependent on factors such as the wall thickness, how large your chimney breast is, and what condition the brickwork is in. But, most importantly, you will have to speak to a building contractor and a structural engineer for advice.
This is important because you might find that removing the chimney breast causes the rest of the chimney to collapse. You need to have the correct structures in place to offer support to the rest of the chimney and prevent problems.
Once you have your structures and support in place, you will need to ensure you very carefully remove bricks from the chimney breast. If you move too quickly or roughly, you risk damaging the wall, which is especially risky if it's a party wall. You will need various tools to remove the bricks: a hammer, sledgehammer, and masonry chisel. Start at the top and carefully remove one brick at a time.
When the chimney breast has been removed, you will need to replaster the wall. Bear in mind you will have to replaster the entire wall, not just the one section in front of which rested the chimney breast.
To remove the chimney breast, you will have had to remove skirtings, but these will then also have to be replaced afterwards. The new ones need to be fitted along the whole length of the wall.
You might also find that there will be some damage done to the roof when it comes to removing the top bricks of your chimney wall, especially if you're removing the chimney entirely. These can include holes that will require you to patch the roof later on. You might also see holes appear on the wall, so you will have to fill the siding.
After you have removed the chimney breast, you will have a lot of dust and debris all over the room, so you will need to clean it and also carry the bricks from the chimney breast out of the home.
Removing a chimney breast is not an easy DIY job to undertake. Even if you do have experience with DIY, you will need to factor in many different things before you can go ahead.
The removal of a chimney breast is a long and intensive process, so don't expect that you can remove this part of your wall within a day.
In fact, you might find that the room looks like a messy building site for a few weeks.
How Much Does It Cost To Get Your Chimney Breast Removed?
You will pay between £1,500 and £2,500 to have your chimney breast removed, but you should add an extra 10 percent to the amount that you're quoted so that you allow for contingencies.
It will cost you more money to remove a chimney breast if you're removing the whole chimney. You can expect to pay up to about £4,000 for that.
So, How Do You Start?
While it might feel overwhelming to remove a chimney breast, you just have to follow these important steps to getting it done.
Call a structural engineer. He or she will take a look at the chimney breast you want to remove, produce designs, and outline the best method for removing it.
Submit designs to the local building control office. The engineer you have hired will do this on your behalf.
Consult your neighbours. If the chimney breast is on a party wall, you'll need to speak to your neighbours and get their approval in line with the Party Wall Act.
Wait for approval. When the engineer's proposal has been approved, the work can begin and must be done in accordance with the approved designs. The local building control officer will also come to inspect that the removal is being carried out properly.
Receive a completion certificate. This will be given when the local building control office sees that the work's been done to their satisfaction.
Related Questions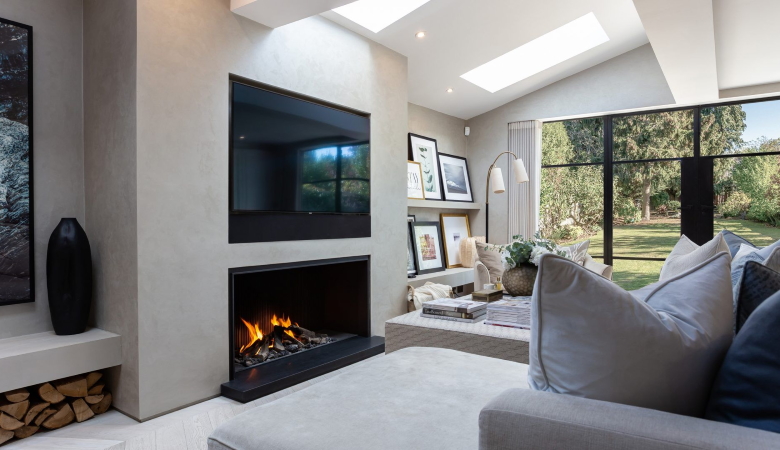 What's a drawback to removing your chimney?
Removing your chimney could result in a lower home value.
This is if the chimney is a unique design in the home, and/or if your home was built a long time ago and the chimney plays a large role in its character.
What happens if you don't give your neighbours a Party Wall Notice?
You can find yourself on the receiving end of an injunction to stop you from carrying on with the work you intend on doing. If you've caused damage, you will have to pay all the costs of the work you've done.
Conclusion
Removing a chimney breast is quite a difficult DIY project to undertake, with many factors involved. These include ensuring that you follow the correct rules and have the right tools and equipment.
In this article, we've provided you with all the important information you need to remove a chimney breast.
It's best to hang up your DIY tool belt and call the pros!
Resources
BLSurveyors.com
Sam Surveyor