You have valuable possessions that you want to safeguard from harm, whether that involves weather damage, fire, or theft.
This could make you want to purchase a fireproof safe for the home.
What is a fireproof safe?
A fireproof safe is a safe that's resistant to very hot temperatures for a period of time, and it's traditionally been designed to protect your paper valuables.
You have lots of documents that you don't want any harm to come to, but should you really invest in a fireproof safe?
Or, can you use some other type of durable and safe way of preserving them?
Let's see!
How Does A Fireproof Safe Work?
This type of safe is built with double-wall construction.
There's a gap between the walls that's filled with fire-retardant material. When this becomes hot during a house fire, it releases water vapour to keep the inside of the safe where your precious belongings are cool so they can't be damaged.
What You Might Not Know About Fireproof Safes
At first glance, a fireproof safe sounds like an all-round safe designed to protect your possessions, mainly against the damaging effects of a house fire. But this is not the whole story.
There are some important things you should know about fireproof safes.
You can use a fireproof safe for a variety of items. These include paper documents, jewellery, and cash.
There are things you shouldn't store in a fire safe. Items such as hard drives, CDs, DVDs, and computer disks are highly sensitive to both humidity and heat, so they should not be stored in a standard fireproof safe.
If you want to keep these safe against potential fires in the home, you will need to buy a fireproof safe that's designed for digital media. This will ensure that the inside of the safe won't reach temperatures above 120 degrees Celsius so that your digital media will be protected.
Similarly, film and tapes will require the use of a magnetic fireproof safe which will prevent the temperature inside the safe from reaching above 52 degrees Celsius in order to protect these sensitive belongings.
You won't be protected against theft. It's a misconception to think that a fireproof safe will protect your belongings from being stolen.
Items that are very valuable should not be kept in a fireproof safe unless it's a burglary-resistant and fire-resistant safe that will protect your items against both hazards.
Make sure you check the safe's product description to be sure that it will achieve both goals before you go ahead and purchase it.
Fire safes come with different fire ratings. These ratings are basically time periods in which the safe will be able to protect belongings that are in it against the extreme heat of a fire.
So, you can find fire safes that have a 30-minute or one-hour rating, which means your items will be protected for those periods of time.
You should look for a safe that has a minimum of a one-hour fire rating. Basically, a completely fireproof safe doesn't exist as you'll only be able to find fireproof safes that will protect your belongings for a certain amount of time.
Fire safes are usually smaller inside than how they look because the materials inside the safes that protect their belongings take up space. This is why it's so crucial to check the size of the safe before you go ahead and purchase one.
Best Fireproof Safes On The Market
There are many quality fireproof safes on the market.
Let's look at two.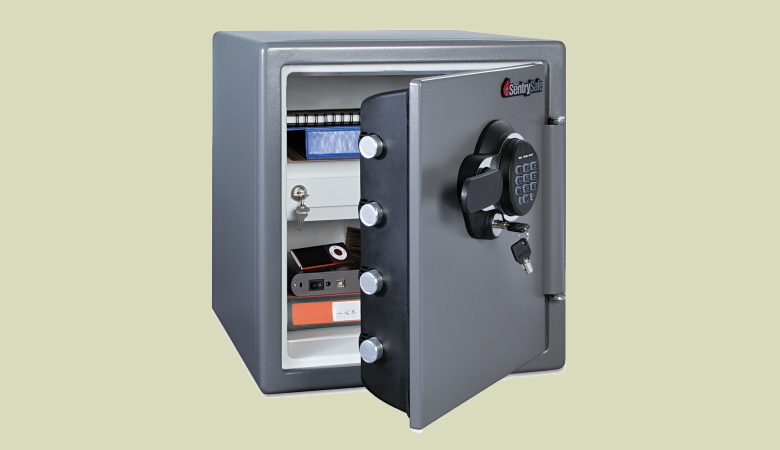 This safe keeps your belongings safe for an hour at temperatures as high as 1700 degrees Fahrenheit.
But, this safe also comes with extra features, such as being waterproof for up to 24 hours (when put in eight inches of water) and being able to tolerate being dropped from a 15-foot height.
It's made of steel and has four live-locking bolts. It has a capacity of 1.23 cubic feet, so you'll be able to store a variety of valuable items in it, such as jewellery, important documents, and more.
It even has a nifty interior light so you can instantly see what's inside it. To make it burglary-proof, this safe weighs 87 pounds so it's not an easy one to carry away.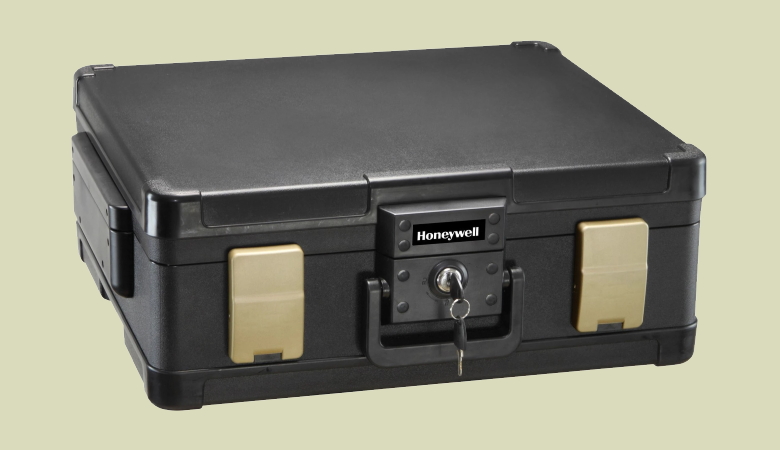 This fireproof and waterproof safe offers you protection for DVDs, CDs, USBs, legal documents, and more.
You can use this chest with a handle, which makes it portable or use it as a cabinet in the home.
This fireproof safe can protect your valuables against hot temperatures of up to 1700 degrees Fahrenheit. It also has a 100-hour waterproof seal that can keep the safe's contents dry even if it's put in 39-inch deep water.
What To Look For When Purchasing A Fireproof Safe
There are some important features a quality fireproof safe should have. These include the following:
Weight
Consider if you want the safe to be portable or difficult for thieves to carry away, as these two features usually clash. While a safe that weighs almost 100 pounds will likely deter thieves, it won't be easy to carry and transport.
Locks
You can find fireproof safes that contain keys and locks, but there are others that have a keypad instead.
The latter's great if you have the tendency to lose your keys. If you're worried about thieves picking the locks on your fireproof safe, you should purchase a combination lock safe.
Can You Build Your Own Fireproof Safe?
It's tricky to make an existing safe fireproof, but it is possible. To do this, use gypsum boards, otherwise known as drywall. This can be attached to the outside of your safe between sheets of metal.
Gypsum board works well to resist heat because it produces steam when put under hot conditions. The vapour will enter the safe and maintain low temperatures, while also being a seal against external fire and heat.
If you have a safe, you can also add insulation in the form of gypsum board to make it resistant to heat. To make it work effectively, you must ensure that it fits inside the safe, so cut it and glue it against the gun's interior walls. Be sure to use flame-retardant insulation to complete the job.
Another material you can use is concrete-based composite. This is used to fill gaps in a fire-resistant safe, so it's more of an enhancement to a safe that's already resistant to fire. It can seal off the inside of the safe and allow heat to be transmitted gradually so that the contents of the safe are preserved.
How To Make Your Own Fireproof Safe
While it won't have the durability and strength of steel, as well as other features you can find in a store-bought safe, you can try making your own DIY fireproof safe. Here are some tips that will enable you to use items you already have in the home.
Put valuables, such as a piece of jewellery or documents, in a resealable bag. Make sure the bag is waterproof. While this will keep the valuables safe from moisture, it will also protect them against fire when you follow the next step.
Put the bag in the freezer. Just make sure you place it in an empty container, such as an ice-cream container, that's filled with water. The water inside the container will freeze, which will add greater protection to the valuables. It's also highly unlikely that a thief will look inside an ice cream container in your freezer to steal your valuables.
Putting your valuables in containers in the freezer or fridge will also help to protect them against house fires because these appliances are the most likely to survive a fire.
Related Questions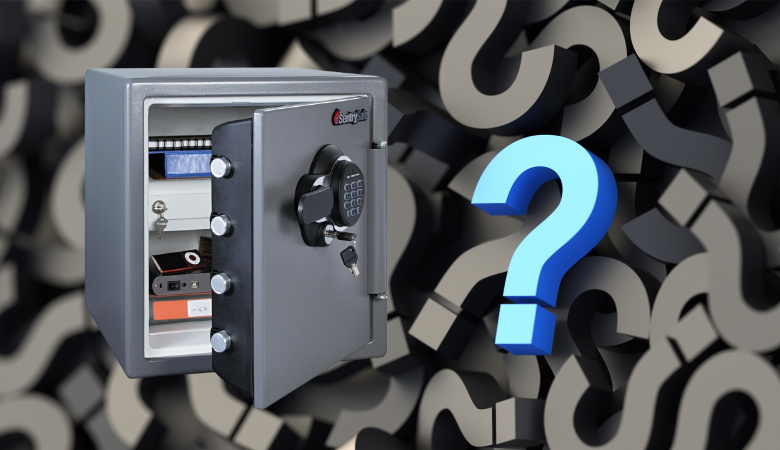 Will a fire safe reduce your insurance premiums?
Having a fire safe for some valuables can decrease how much you have to pay for insurance premiums.
Insurance companies use fire ratings to see how much security they can cover for certain items. The higher the fire rating, the more secure your items will be.
Where should you keep your fireproof safe?
Exposure to humidity can affect the safe's locks, so make sure you keep your fireproof safe in a dry, cool place. A good spot is on the hard, dry floor of your garage or basement.
Conclusion
If you want to keep your valuables safe against extreme heat and fire, you should seriously consider purchasing a fire safe. In this article, we've looked at some important things to know about fire safes and what to consider before going ahead and buying one.
Resources
Hunker.com
PhoenixSafe.co.uk