Moving house is hard work. It could be the most stressful thing you've done in years, but the good news is that you don't have to do it on your own.
If you need tips for moving house like a pro, this ridiculously thorough guide will save you time, money and a lot of stress. Honestly if it's not on this list, it's probably not worth knowing.
We have ordered the tips, tricks and hacks into easy-to-read sections that cover everything you'll need to know before, during and after the move has taken place.
You want to know how to make moving easier? We're going to cover everything from checking your insurance to cleaning hacks to making sure you get your deposit back after you move out.
The Ultimate Moving Checklist
A Comprehensive Guide on What to Do Before, During, and After Moving
Before You Move
You should seriously consider having a clear out. The less junk you have to pack up, the better. Save yourself time, stress and money by getting organised by taking some moving advice. Boxes are now your friend. You might have seen them before, but they have taken on a new significance.
Organising
Make a list
Lists are there to help. Write down everything that you put in boxes to refer back to later. Spend the time and save yourself a lot of hassle later.
Movers, not shakers
Shop around for the best reviewed removals company you can afford. Finding a good one is critical unless you want to buy all new furniture. A good removals company will help you pack up, move your home and unpack everything for you. The best will perform a visual inspection before the move and give accurate quotes
DIY ethic
You can do this by yourself. If your budget is tight, and you have good friends or family to call on, it's more than possible. Rent a van, learn to lift things safely and prepare yourself for plenty of hard work.
Move to digital
Of course there's an app to help you organise your move. Inventory your whole house and keep track of everything you own via your phone
Shrink the problem
Vacuum sealing bags are brilliant for your clothes and bedding, and even cushions. In fact, anything that can be compacted can go into these bags. Just suck out the air and seal them up, ready for transport. (Bin liners and elastic bands work in a pinch)
Don't lose your nuts
When disassembling furniture, bag up the nuts, bolts and screws and tape them to the bottom. Then you can't lose them
Pack in advance
You should be doing this anyway. Pack your winter clothes up in the summer and your summer clothes in the winter. Store the opposite season away to save a tonne of space. And, half your wardrobe is organised and ready to go to your new home
Decide the best time to move
Most people want to move at the weekend, so removals companies will be cheaper during the week. The same goes for the winter months. Consider this carefully when shopping around for the best deals
Decluttering
Use the "Four-Box" method
Label four boxes as follows: Donate to Charity, Throw Away, Keep and Use, Store Away. The labels are self-explanatory, but you have to stick to your promise. As soon as your Throw Away box fills up, put it in the car. The same goes for the Donate to Charity one.
Give it all away
Your friends and neighbours will come in handy when it comes to moving home. Reward their hard work by giving them some of your heaviest possessions. This saves your back and keeps them friendly for the next big project that needs their help.
A good deed
If any of your furniture still has the fire safe tag, some charities will happily come and take it away for you, if you don't want it any more that is
Store it for later
Run out of space for your Store Away box items? Self-storage companies are everywhere, and some of them will even pick the boxes up for you.
Make some cash
If you can't stand giving things away, try selling them. eBay, Facebook marketplace and Gumtree are great places to offload possessions before the big day. Your customers will even come take the item away for you
Roll up, roll up
Your junk could be someone else's idea of treasure. Make the most of it by having a garage sale. Make a sign, post it on social media and watch your neighbours fight over your old fish tank. Even if you don't make a lot of money, you won't have to take any of it with you
Boxing Up
Do your calculations
It makes sense to work out how many boxes you will need in the first place. To give you an idea of how many you will need, try an online packing calculator which works out a number based on the rooms you are packing up and if you are a minimalist or a complete hoarder
Don't buy brand new
You might think that boxes are all the same, but flat packed moving boxes can be incredibly expensive when bought new. Look online at websites like Gumtree for second hand boxes locally
Don't buy boxes at all
Sturdy plastic storage boxes of all sizes are available to rent for the duration of your move. Just give them back when you're done with them
Boxes for free
If you're on a tight budget, you could pick up boxes for free from your local supermarket. They will be all different shapes and sizes, but you could save yourself a small fortune in cardboard that you'll only be using once
Keep it light
It might be tempting to overfill your precious new boxes, but save your back and potential disasters by keeping them light and manageable.
A box each
Save arguments from starting by giving each family member their very own box to fill. Tell them to fill it with quick access items like their favourite books and clothes they can't do without. You won't now be accused of losing them during the move
Read all about it
Before you chuck out those newspapers and junk mail, think about using them as packing materials. Scrunched up and placed between breakables, it's just as effective as bubble wrap, but watch out for ink bleeding onto white tablecloths
Don't underestimate the tape
It seems obvious, but you're going to need acres of packing material and rolls of strong tape. Don't run out on the day, whatever you do
Bag it up
Get hold of those small plastic sealable bags for assorted odds and ends, they come in handy all the time. You can tape them to larger items to keep them safe
Hazardous materials
The last thing you want is for cleaning products, paints, or food products to leak all over your best linens. Pack things that can leak in their own boxes, and try to put them on the floor of the removal van if you can
Get a handle on it
Save your back and make your boxes easier to carry by carefully cutting hand sized holes in the sides of them with a craft knife
Luggage to the rescue
You already own heavy duty packing gear. Put your fragile and valuable bits in hard suitcases. The handles and wheels come in handy as well
Labelling Everything
Labelling the easy way
It might not seem like it's that important right now, but your future self will thank you from the bottom of their heart if you invest in a label maker. Scrawling on boxes with a biro might feel like a good idea at the time, but nothing beats a real label.
Wait until the box is full
Pre-labelling boxes is a recipe for disaster. Wait until you know that everything on your list fits in the box before you write it down
Pack, seal, label
If you follow this simple process, you pretty much can't go wrong. Don't seal until you've packed, and only label after you've sealed
Label by room
Scribbling "stuff" on a box and throwing it on top of the pile might save you precious seconds before you move, but that important power cable in there could be lost forever. Take the time, be specific, and use your label maker
Colour coded box labels
Make finding the right box even easier by colour coding them by room as well. You could get busy with coloured paper and sticky tape, or go pro with packing box labels
Keep on the right side
If you stick your labels to the tops of your boxes, you'' have to unstack them to see what's what. Place any labels on the sides of boxes where you can see them
Secret codes for safety
If you're worried that someone will steal a box marked "gold jewellery and diamonds", change it to "winter underwear". Just make sure you don't forget your system
Make your mark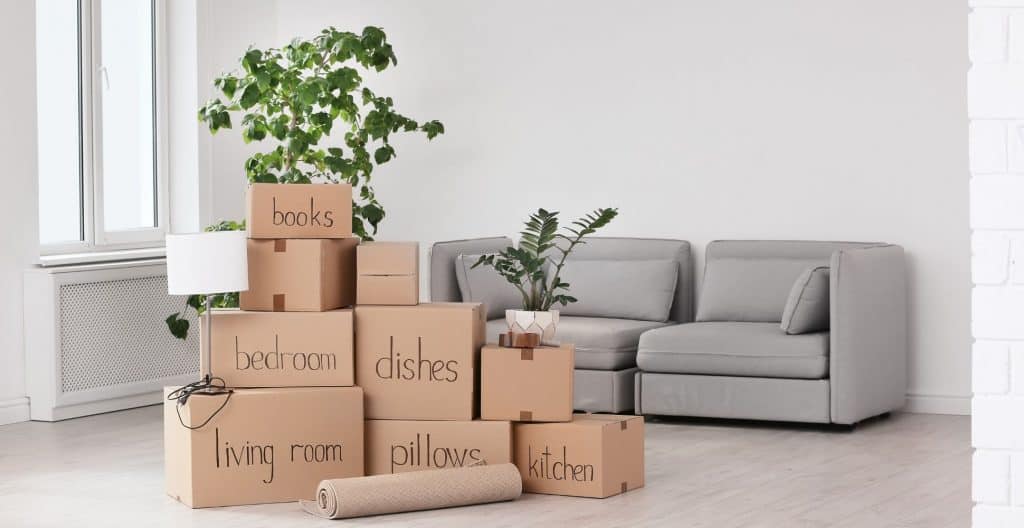 If you do use pens to write labels, make sure they are permanent, waterproof and weatherproof. There's no point in creating a labelling system if you can't read them
Leaving Your Old Place
Before you run out of the door, consider what is to become of your old house and make the most of these moving tips. Especially if you're renting. Don't underestimate the lengths that some landlords will go to avoid giving you back your deposit.
Cleaning
Clear the decks.
If you can, wait until your old home is empty and then get stuck in to the cleaning. It's so much easier to vacuum, mop, dust and scrub when all the furniture is packed away
Deep cleaning
Gather up plenty of cleaning supplies before everything is packed away. Glass cleaner, rubber gloves, cloths, furniture polish and plenty of elbow grease
Use your removals company
Some house moving companies offer a full cleaning service when you move out. Sure, it will cost a bit more money but moving is stressful enough on its own without being responsible for everything
The power of oxygen
Get rid of stains you forgot all about with the old classic. Bicarbonate of soda and vinegar is powerful, non-toxic and really works. And unlike a chemical cleaner, it's safe to use on almost any surface
Steam power
A handheld steamer is invaluable for cleaning surfaces without resorting to nasty chemicals. Use it to clean everything from curtains to taps to white goods. They work especially well on rubber seals around fridges and washing machines.
Nailed it
Cover up all those nail holes with filler and smooth it over with an old shopping loyalty card. In an emergency you could use toothpaste, soap or even chewed up paper
Clearing the Kitchen
Food glorious food
Most removals companies will not transport perishables for you, so spend the last few weeks and days in your old home eating the contents of your freezer (before remembering to defrost it, right?) and your fridge. It's one less set of things to worry about anyway
Have a brew
Whatever you do when you're packing the kitchen, don't forget to put the kettle somewhere obvious. You're going to need all the help you can get from cups of strong tea in the next few days. And don't forget the mugs to drink from.
Get down and dirty
You've been putting it off for a long time, but you're going to have to clean the oven before you leave. Remove all the trays and racks, and soak them in vinegar overnight. As for the oven itself, paint a paste made of bicarbonate of soda and water all over the inside, then leave it to dry. Wipe this off with a clean cloth after 12 hours
Keep a lid on it
Use rubber bands to stop lids falling off in transit. Go one step further and use the pots as extra storage for other kitchen items
White goods
Drain your washing machine and dish washer. Don't forget to tape up the hoses. You'll be amazed how much liquid is hidden away inside, only to be released all over the floor when you tip them up.
Packing plates
Ceramic plates are easy to break, so store them vertically in boxes like you would records. Separate each of them with packing material and they are much safer
Sorting the Bedroom
Go through your clothes
Pull out anything on a hanger and turn it round so that the hook is facing the opposite way. Between now and when you move, anything that is still turned around put in the Donate to Charity box (see the "Four Box" method above)
Bag them up
Place several hanging items of clothing like shirts or jackets directly into large bags whilst still on the rail for easy transport
Protective clothing
If you're struggling to find packing material, just wrap your valuables in your clothes. You could save yourself breakages and a lot of space at the same time
Remove your drawers
Don't try to move furniture without losing as much weight as possible. A chest of drawers without the drawers will be so much easier to carry
Wrap it up
Don't unpack all of your drawers into boxes though, take them out and wrap them in clingfilm. This way they won't lose their contents during the move
Arranging the Living Room
Leads and cables
If you have lots of electronic devices around, take photos of the wires coming out the back and how they all plug in. You can then re-wire them easily
Packing your remotes
Remove the batteries from remote controls, to stop them leaking or overheating. Pack all of them together to save looking for each remote when you unpack
Tape them shut
DVD disc drives have a habit of opening when you move, and can easily snap off. Keep them shut with masking tape and won't mark the surface
Big screen TV
Fingers crossed you've got the original box. If you don't, wrap it in bubble wrap, then cardboard, and a blanket. Extra layers will save your screen from breaking
Watching Your Back
Check your inventory
In rental properties, you should have a full contents list that details any damage when you moved in. Keep a copy of this to avoid being blamed for anything that's not your fault
Take photos of everything
You can't take enough pictures of your home before you leave. Being able to prove that you left it as you found it can save you time, money and stress
Update your address
Do this several weeks before you leave. Personal information is like gold to fraudsters, so make sure that bank statements are forwarded to your new home
Read the fine print
Your removals company might charge you more for all sorts of things. Be clear up front what you are paying for. Are they going to have to help you dismantle furniture? Does everything have to be in approved boxes? Save yourself and ask questions
Talk to your insurers
It's important to check that your home insurance covers your move. You might need to purchase extra cover when your items are in transit
Keep your valuables close
There are some things that shouldn't be left with the removals company. Keep important documents like passports, bank statements and bills with you
Read the meters
Before you leave, read your gas, electricity and water meters. Take a photo of them, and you'll have them should you get into a fight with the utility companies
Moving Day
Labels have been stuck on, boxes have been organised to within an inch of their lives and you have checked and re-checked your removal company contract.
But, the real job has only just started. It's zero-hour on move day. Hopefully you get some sleep and remember these tips for moving, because you're in for a wild ride.
In the Morning
Up early
This is not the day for a lie-in. You will have forgotten to do something. Get to bed early the night before the move, and you'll have enough energy for whatever the day throws at you
Team talk
Now's the time to delegate tasks. Someone needs to be chief and answer the hundreds of questions that will no doubt pop up. If you've made the lists and organised the whole show, it's probably going to be you. Delegate tasks and be the boss
Pack an emergency bag
Everything you own is packed in boxes and piled up. You're going to be exhausted, dirty and in need of a change. Save yourself the effort of finding things at midnight by packing a bag full of the essentials. A couple of changes of clothing, toothbrush and toothpaste, work clothes and a local takeaway menu could make all the difference
Get rid of the kids and pets
Your two and four-legged friends are great, they might even be the reason why you're moving in the first place. But this isn't the day for breaking up fights, walks around the block or tantrums. Ask a friend or neighbour to take them for a few hours
Leave out some snacks
You're going to have a lot of people in and out of your house today, so don't let them go hungry. A box close to the front door stocked with water, fruit and treats will keep you and your team running at full power
Don't Forget
To charge your phone
You're taking photos of your old place, calling the removals people and Instagramming the whole process. Before you know it, you're on 4% and your charger is nowhere to be found. Keep it in your emergency bag or somewhere obvious
To pick up the milk
What happens on that first morning in your new home? Life must go on, and that includes breakfast. Make sure you have something to eat, you'll need your strength. Or, schedule an online food delivery to arrive on your first morning
To chill out
We all know that moving day has the potential to stress everyone out, but don't forget that moving home should be an adventure. Make the most of this special day with your family by watching a film surrounded by boxes or eating a takeaway, surrounded by boxes
To do one last walk through
Marvel at what your empty home looks like, lay on the floor where you've never been able to before, and realise it echoes when all the furniture is gone. Or, you could use this time to check every cupboard, shelf and drawer for things that have been forgotten.
To leave out some cleaning products
After your walk through, you will see something else that needs cleaning, even if it's just your own footprints. Don't pack up a dustpan and brush and some cleaning cloths or you'll be doing the final wipe over with your t-shirt.
Your New Home
Congratulations! You made it. The new chapter of your life begins in your brand-new place to live. It's exciting, a new area to explore with shops, cafes and pubs all begging to be sampled. But don't get ahead of yourself, there's still a lot to get on with. Follow these moving tips you won't regret it.
Straight Away
A clean slate
You might never have this chance again, a totally empty home to transform in any way you want. If you can get access to your new home before moving in, or delay the landslide of boxes for a while, make the most of it
Inspect your home
Whilst it's empty, give everything a thorough visual inspection. It's harder to spot things that need attention when all of your furniture is in the way. Looking for drips, leaks, cracks and bulges is much easier in an empty house
Inspect the moving boxes
If you've used a removals company, inspect the boxes for damage in transit. This will be your best chance to document any problems
Don't blow a fuse
Hopefully you know where the fuse box is. What about the water shutoff valve and the gas meter? Don't wait until you need to find them in an emergency
Utilities
You will need to make sure your water, electricity and gas are all connected, or it could be a bit uncomfortable in your new home. Don't forget to sort out your phone line, internet, satellite TV package and any other secondary services you rely on
No smoke without fire
Check that the fire alarms work. If they don't, install new ones. If you have mains gas, you should install a carbon monoxide alarm as well. If you are going to save money anywhere in your new home, don't do it here. Buy the best you can afford
Watch the pets
Your furry friends will be confused. They don't understand why you have moved them to a new territory that may smell of unfamiliar animals. Keep a close eye on their behaviour. You could invest in a pet calming plug in to help avoid pet anxiety
Make the beds
No matter how busy you are, take time to make the beds up. You will thank yourself when it comes to collapsing at the end of the day in your own bed
The First Few Days
Decorating time
Just try decorating in a room full of stuff. It's a nightmare. On the other hand, empty rooms are a piece of cake to decorate. With no furniture to shift around (or get splattered with paint) you can roll or brush to your heart's content
Time to unpack
Don't make the rookie mistake of putting the unpacking to the back of your mind. You're going to be tired of staring at boxes, but don't quit now. Your new house won't feel like a home if you live out of boxes for months on end
Avoid unpacking burnout
The struggle is real. The last thing you'll want to do when you first move in is to dive headlong into unpacking everything at once. Take your time, use a system and do a bit at a time. If you divide the job up into sections it will make it easier
Safe and secure
You might want to change the locks on all of your outside doors. You have no idea who could have copies of your keys on their keyring.
Drive yourself crazy
Don't forget to tell the DVLA you've changed address. This is important for car insurance purposes, and if you don't do it, you could risk a hefty fine
Say hello to your neighbours
Moving somewhere new can be scary. Make friends with your neighbours, and you will have free security guards right next door. They probably have great advice to give you about the local area, and might just feed your cat when you go on holiday
Something to aim for
Give yourself a target for when the unpacking needs to be finished by. One that you can't put off indefinitely. A good excuse to have a housewarming party or big barbecue to show off your new digs will be inspiration enough to get the job finished
And... Relax
You're all settled in. The housewarming party was a success! The neighbours loved your homemade pizza and let you know about that great cafe close to the park. Your pets are at home in their new territory and the kids are making friends already.
It was stressful at times and a lot of hard work, but the moving advice you took from this guide saved you from meltdown in the street outside your old house. You should be proud of yourself for completing one of the biggest tasks of your life. Enjoy your new home. You deserve it.