Building your own summer house is an exciting prospect.
A summer house is the perfect spot to relax in the garden but be sheltered from bugs and the elements.
How big can your summer house be?
You're allowed to build a summer house that's got a twin pitched roof of up to four metres in height but it can't be over 2.5 metres to the eves or of 2.5 metres with a flat roof without requiring planning permission.
If you're building your summer house within two metres of the boundary between your neighbours, you'll have to limit its height to 2.5 metres.
Now that you know how to keep your summer house legal, let's explore how to build a summer house step by step for relaxing in and enjoying the outdoors.
Step One: Choose The Right Location
You should ensure that the area in which you want to build your summer house in the garden is flat, smooth, and level ground.
You should also consider how much shade is in that area as you don't want the summer house to not get enough sun. Similarly, you don't want there to be too much sun otherwise it will feel too hot inside the summer house.
It's also a good idea to choose to build your summer house at the far end of your garden.
This is because if you build it in the centre, the garden will seem smaller in size and you'll also remove space you need for other purposes, such as gardening or growing vegetables.
Remember to clear away any vegetation in the area so that you can put down the base and flooring properly.
Step Two: Choose Your Foundation
You might want to use a concrete foundation for your summer house as this enables you to leave the concrete exposed.
You will need a concrete mixer to prepare and pour the concrete so that it will be nice and smooth. However, it's important to note that the concrete foundation will need to slope a bit downwards to allow for efficient water drainage.
What about a slab base?
This is something worth considering because a slab base is easy to move around, so it gives you greater flexibility if you wish to change the location of your summer house in future.
An alternative type of foundation is to have a raised wooden base for the flooring. Frame boards will have to be installed into the ground so that the house can be anchored. Then, once that's done, you'll have to build a wooden deck between the frame pieces.
If you want to build your summer house on decking, such as level timber decking, this is a possibility.
However, you must put a weed-proof membrane between the decking and floor of your summer house.
Step Three: Move On To Building Your Frame
Lumber will have to be used to create a skeleton of your roof and walls.
Strong pieces for the ceiling beam will ensure that the roof will be supported. You'll have to use a timber nailer or electric drill to achieve this purpose.
Always use a level so that every piece is straight to ensure your summer house will be durable and stable. When you build your frame, make sure you clear some spaces for the door and windows.
Something that's often overlooked when building the frame of a summer house is that wood shrinks over time and this needs to be accommodated with the use of a T-section in the frame.
On top of the frame, there should be a two-inch gap and flexible material should be used to fill this gap. The same thing should be done for the door frame.
Step Four: Build The Roof And Walls
Use timber walls if you want your summer house to look natural, or opt for drywall inside and then siding on the outside. It really depends on your preferences.
The benefit of using drywall is that you'll be able to insulate it so that it maintains an ideal temperature when you spend time inside the house. When choosing timber, make sure you avoid cheap materials. Good options include oak, larch, or redwood as they will be durable.
For the roof, you can use tin or even shingles, but note that tin will be the more budget-friendly option.
Wood is sometimes preferred for summer houses, mainly because of how charming and traditional it looks, but you will have to ensure you insulate it with damp proofing materials and tiles to keep water out during the rainy season.
Step Five: Add The Door And Windows
The windows should be installed according to the manufacturer's instructions. These need to be followed so that you install the windows safely and they provide proper insulation.
As for the door, it's good to choose a style that will work with the decor you want for your summerhouse. Make it look inviting so that you'll feel excited to open the door to your summer house!
Step Six: Paint Your Summer House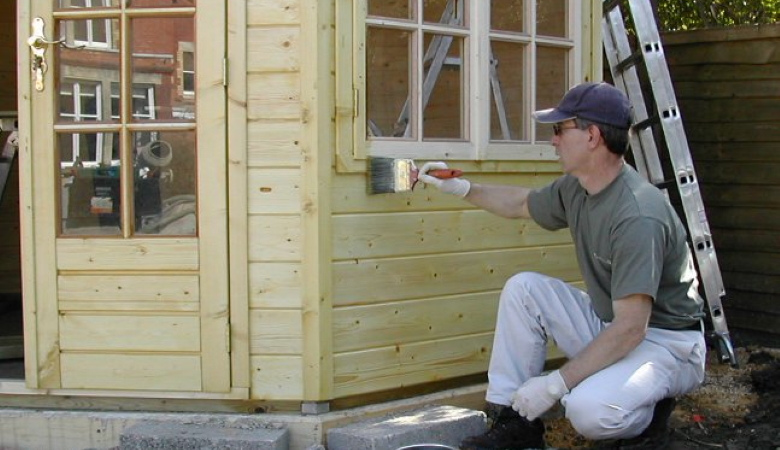 One of the great things about having a summer house is that you can make it feel like an additional home on your property.
To make the most of this idea, go ahead and paint and/or decorate it however you wish to make it reflect your personal taste.
When painting the walls, there are some important things to bear in mind.
If you have wooden walls, you'll have to use a sanding machine, such as an orbital sander, to smooth them out prior to the painting process.
If you have drywall installed inside the summer house, you will have to prepare it before you can paint it. To do this, ensure that you clean the drywall by sanding it, then vacuum it to remove any dust. It's then important to use a black cloth to rub it down to further ensure that no dust or debris is left behind. When you've done that, you should apply primer to the drywall. This will help the paint to stick to the drywall and look good for a longer time.
A paint spray system is a good idea if you want to paint the walls of your summer house because it will make your job a lot easier. You'll be able to paint the large surfaces faster and get an even coat of paint.
You don't have to paint your walls, though. If you like, you can leave them natural, but if they're made of wood you will need to treat the wood so that it won't rot and will be able to tolerate the elements, such as rain and heat.
What About Electricity In Your Summer House?
Are you going to use electricity in your summer house, such as to power up lights or your devices, or perhaps even appliances?
Think about this and if you will need it.
When bringing electricity to your summer house, you will need to ensure you have the installation and wiring of switches and sockets inside the summer house.
You will also need to ensure that the electricity can be supplied to the summer house from your home, such as with the use of an armoured cable.
This has to travel directly from your home's main supply to the summer house, and it should be placed underground as well as get connected via a consumer unit that's installed inside the summer house.
So, the cable will be wired into your home's main fuse box and then laid inside the trench in the ground so that it can reach the summer house where it will be connected.
Bear in mind that this job is best left to a professional, qualified electrician, unless you have experience with it and feel confident to complete it.
If your main concern is lighting in your summer house, you don't have to use electricity. You could use solar lights and lanterns, or even candles.
Similarly, if you're not going to be using your summer house at night, then you might not need to install electricity, as long as the summer house remains warm during the winter or you can manage cold winters with the use of portable space heaters to keep you warm.
How Much Will It Cost To Build A Summer House?
The amount of money you'll have to spend to build your own summer house will obviously depend on the materials you use, the size you want it to be, and its style.
However, generally, a straightforward summer house without any frills will usually cost approximately £500. For a larger summer house that makes use of more expensive materials, you're looking at anything up to or beyond £10,000.
What Are The Benefits Of Having A Summer House?
A summer house provides many benefits.
These include the following:
You increase the amount of living space you have. Since you can do so many things with your summer house, such as turn it into a home office, writing studio, or spare bedroom, you can easily feel like the summer house is an extension of your main living space.
You can turn it into a guest bedroom. Linked to the above point is how you can set up your loved ones who are visiting you in the summer house. This will also have the benefit of giving them greater privacy.
You can enjoy the garden much more. Sometimes the elements can prevent you from enjoying spending time in the garden, such as if it's raining, too hot, or bugs and mosquitoes are being a nuisance. By having a summer house, especially one with many windows, you'll feel like you're right in the garden but you'll be able to enjoy it more, no matter the time of day or the type of weather outside.
How To Maintain Your Summer House
You want your summer house to last you for a long time and look its best. This is why you need to ensure you maintain your summer house regularly.
Here are some important ways in which to do so.
If you've chosen to build your summer house with wood, you should use a high-quality treatment or wood stain to protect the wood. This should be reapplied every year. If you notice cracks or damage in the wood, it's time to use a filler, such as a wood preserver.
Check the roof for any damage. If you notice any cracks or holes, repair them as soon as possible to prevent further damage, especially if it rains.
Encourage air circulation. Your summer house won't have ventilation built into its design, which means you'll have to ensure that you air it out, otherwise you could end up with condensation and mould as a result of it. Get into the habit of leaving windows and doors open daily to let the air circulate through the summer house.
Related Questions
How long will it take you to build a summer house?
You can expect it to take a few weeks, but it's a complex task that requires you to take your time so that you do it correctly.
Will a prefabricated summer house cost less?
A prefabricated summer house can cost you much less than one which is custom made. This is because the latter will take longer to build and will need extra work.
Conclusion
If you want to have a beautiful summer house, the good news is that you can build it yourself.
In this article, we've provided you with information about the steps you need to follow if you want to go the DIY route.
Resources
Standard.co.uk
HSS.com
CraneGardenBuildings.co.uk
LetsFixIt.co.uk