You might feel like you don't have time to clean your bathroom because you're so busy, but making time for this chore is important.
While it's probably the least favourite household chore, bathroom surfaces are hotspots for bacteria, pathogens, and viruses that can live on them for days.
How often should you clean your bathroom?
Aim to clean this room of the house at least once a week, but preferably more often, especially if you have a large household.
To make your job easier and faster, it helps to know exactly how to go about cleaning your bathroom.
Here's your ultimate guide to a sparkling bathroom that will make you feel good whenever you enter it.
Easy Ways To Clean Your Bathroom Surfaces
Start With Your Sink
Got five minutes to spare in the morning?
Scrub down your bathroom sink. It's prone to soap and toothpaste residue that can leave it looking grimy. You can give it a good clean with the use of an all-purpose bathroom cleaner.
Or, try a natural solution. Mix a cup of vinegar with two cups of water, and put this mixture into a spray bottle. Spray it liberally over the sink and then leave it to work for 10 minutes. Afterwards, scrub the surface clean with a clean rag.
Make Your Toilet Sparkle
Although it's probably the worst part of the bathroom to clean, a hygienic and sparkling toilet will make you feel better whenever you see it. Here are some easy tips to follow if you want to clean your toilet.
Start with a toilet bowl cleaner. Pour some into the toilet bowl and leave it for about 10 minutes or so (read the bottle's instruction) before you get scrubbing.
Grab your gloves and toilet brush. Once that time's up, grab your toilet brush and scrub the bowl. You should use a brush that's curved so it can reach underneath the toilet rim.
Use pumice for stubborn stains. If your toilet cleaner won't eliminate those stubborn rings and stains in your toilet bowl, use a pumice stone to scrub them.
Eliminate hard water stains. If you have hard water in your home and find that it leaves a yellowish-brown stain in your toilet bowl, this is as a result of chemicals that are present in hard water.
To remove them, put one litre of white vinegar in the toilet bowl. Leave it for about three hours then scrub the bowl with a toilet brush. You can add more vinegar if you need to eliminate stubborn stains. Finish by flushing the toilet.
Reach for disinfectant spray. This is a must to eliminate harmful bacteria in your toilet. You should use it on the rims, seat, lid, bowl exterior, and tank. Then, wipe away any residue with a clean cloth.
Clean Your Bathtub
The tub is where you soak in bubbles and enjoy a glass of wine after a hard day, but it can become dirty and grimy very quickly.
It can even become filled with mould and mildew. Here's how to get it looking great again so you'll actually want to spend time in it.
General Bathtub Cleaning Tips
After filling a bucket with hot water, pour it all over the tub.
Then, grab some baking soda and sprinkle it on the surfaces.
Fill your bucket with half a gallon of hot water and add two tablespoons of your trusty dish soap.
After dipping a sponge in the solution, scrub the tub. If the stains are a bit stubborn, you could use a brush instead and you can also sprinkle baking soda onto the sponge/brush you're using.
When you're done, use the remaining water in the tub to rinse tub.
You don't want the tub to look clean but the handles, drain, and faucets to look grimy, so clean them with a dry cloth.
How to Clean Mould and Mildew in Your Bathroom Tub
Mix hot water and four tablespoons of bleach and put it in a spray bottle. Be sure to wear a mask to prevent breathing in the bleach fumes!
Spray the bleach solution onto the areas in the tub where there's mould or mildew, and let it soak for a while.
While it's soaking, you can also sprinkle some baking soda over the tub.
Then, wash your bathtub with hot water and dish soap – follow the instructions in the previous section.
Clean Your Bathroom Shower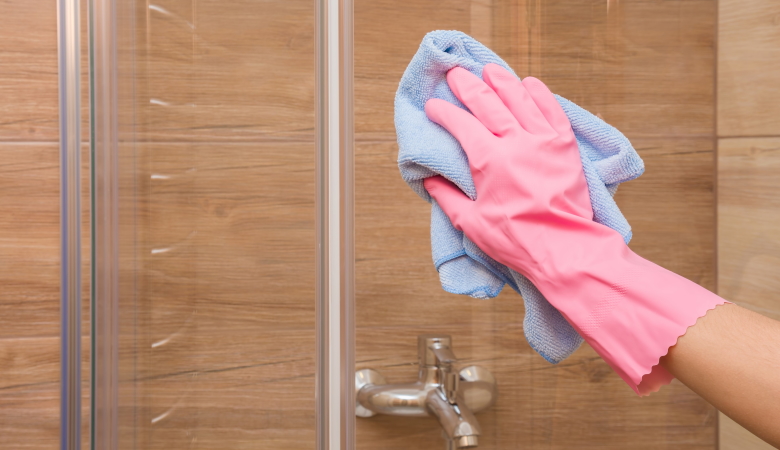 Cleaning the shower doesn't have to feel stressful.
Here's how to make it shiny and beautiful.
Remove everything that's inside the shower. Empty the shower of any products that you have in there, such as brushes, soap, body wash, and others.
Fill a bucket with water so you can wet the shower walls.
If there's mould on the tiles, you should clean those first. You can do so with one part bleach and two parts water. Use a sponge to apply the mixture to the mould. Let it work for 10 minutes, then use an old toothbrush to scrub it. Make sure you wear protective gloves and a mask when working with bleach. Rinse the area with water before you clean the rest of the shower.
Spray the cleaning product to your shower walls and floor and let it work for 10 minutes before you scrub it with a sponge.
Rinse the shower walls and floor afterwards.
Pro tip: You can also mix hot water, vinegar, and Dawn dish soap to clean the shower floors. Apply it to the floor then scrub it. When cleaning your shower walls with natural products, you can use vinegar. Bring vinegar to a boil and then wipe down the shower walls with it.
What About the Shower Doors?
Fill a bucket of water and wet the shower glass.
Put white vinegar in a spray bottle and spray it all over the glass.
Allow the vinegar to work for 10 minutes, then put some baking soda on a sponge.
Use the sponge to scrub the shower glass. While the soda will remove dirt, the vinegar will help to dissolve the soap scum and water stains.
When you're done, rinse the shower door with water and dry it with a clean microfibre cloth.
Pro tip: To make it easy to clean the shower doors in future, you should keep a sponge or squeegee in the shower so that you can always wipe down the shower door after showering.
Keep Your Bathroom Vanity Clean
The bathroom vanity can quickly become cluttered and dirty, so make sure you keep it looking good. It's the place where you spend most of your time in the bathroom, whether you're washing your hands or face, or shaving or doing your makeup in the mirror, so you want it to be clean.
Remove everything that's currently on the vanity, such as cups, toothbrushes, and soap.
Check that the cleaning product you're using on your vanity will be safe. Some vanities are made of ceramic, while others are tile or marble, so you don't want to damage the surface.
With a clean, damp cloth, wipe the surface of your vanity with some water.
Then, apply some product to the cloth so you can scrub any areas where there's dirt. This will also help you remove stains. Examples of stains include water, makeup, soap, and toothpaste stains.
You should also clean the sink faucets and drains as these are particularly prone to stains and grime.
Once you're done, clean the vanity with a clean cloth and water. You should go over the surface a few times with water so that you prevent any product residue from causing new spots and stains on the vanity.
Pro tip: If you don't want to use a store-bought cleaning product or you've run out of it, you can mix together equal parts water with equal parts vinegar and use this to scrub your vanity.
Clean Your Floors
It's pointless if all the fixtures in your bathroom are clean but your floors are grimy. They can also be collecting harmful substances. Here's a quick and easy way to clean your bathroom floors.
You should clear away any items that are on the bathroom floor, such as your scale and bin, and vacuum it before you wash it. This will remove dust and debris, especially in the corners of the room or any areas that are awkward-to-reach spots for brooms.
Then, mop the floor with clean water and a floor cleaning product.
After mopping the bathroom floor, allow it to dry properly to prevent mould and mildew from growing. Keep the windows open so that air can circulate and prevent any damp areas.
While you can find many bathroom floor cleaners on the market, if you'd prefer to go the natural route and make your own, mix together one cup of water, half a cup of vinegar, and two tablespoons of baking soda.
When adding the baking soda, do so carefully as it will foam a lot. Put this mixture in a spray bottle and use it to clean your bathroom floor. If you want the solution to leave your bathroom smelling nice, you can also add the juice of half a lemon or 15 drops of essential oil.
How To Clean Dirty Bathroom Tiles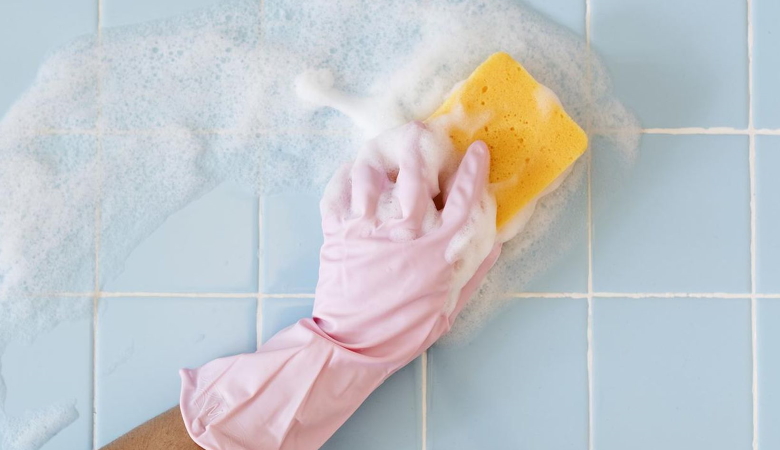 Tiles are usually found in the bathroom, perhaps on the floor or walls or both, and if they're dirty it doesn't matter how clean the rest of the bathroom is – it will just look grimy.
Use steam. A good tip for cleaning bathroom tiles is to use steam before you go ahead and clean your tiles. This will loosen dirt and soap scum, making the chore of cleaning your bathroom much easier.
So, spritz your cleaning product (whether commercial or natural) on the tiled walls and/or floors, and then open the hot taps in the bathroom so that steam is produced. Wait for approximately 20 minutes and then wipe the tiles with a cloth.
Remove grout. Spray the grout with hot water and then use a brush to scrub the grout so that you can clean stains and remove dirt. A steam cleaner can also be effective. Just apply steam to the grout, then use your brush.
Move in circular motions with the brush. When you're done, gently blot the grout with a cloth. Bear in mind it's a good idea to seal the grout so that it will keep it clean. You should do this about twice a year.
Related Questions
Is E. coli common in bathrooms?
This bacteria can be found in areas up to six feet away from the bathroom sink and toilet, so you want to keep your bathroom as clean as possible.
What other bacteria is found in bathrooms?
Bacteria such as salmonella, Bacteroidaceae, and streptococcus are also found in bathrooms – not just on the floor but in every part of them. They can cause symptoms such as vomiting, nausea, diarrhoea, and stomach cramps.
Is your toothbrush dirty?
Scarily, your toothbrush can hold around 200,000 bacteria per square inch, which is more than what you'll find on the toilet seat. Keep it clean by storing it in an area of the bathroom where it can dry properly between uses.
Conclusion
Just because you dread cleaning your bathroom, it doesn't mean you should neglect it. It's bad for your health!
Now that you've read these tips on the most effective ways to clean your bathroom from top to bottom, you'll be able to give your bathroom a thorough clean and feel healthier whenever you step inside it.
Resources
MarthaStewart.com
MollyMaid.com
NBCNews.com
TheSun.co.uk