The kitchen is a room in your house where you probably spend a lot of time. And if you don't, it's probably because you don't like how it looks and feels right now.
It's a room that can become a focal point of your house – if it's designed right. There are different styles to suit every personality and taste. Check out these ten inspiring ideas to get your kitchen looking its absolute best!
The Vintage Kitchen
Vintage kitchens tend to be inspired by designs from the 1920s up to the 1950s. This was an era characterised by "making do" – items were mended and furniture was often upcycled or reclaimed.
Choose either pastel or bold colours and folk type prints. Why not try some bunting? Open shelving and roomy, colourful cabinets, and curved appliances will help you to get the quintessential vintage look. What's great about this style is that it doesn't matter if you clash!
Oh, and Butler sinks and Aga cookers are classics from the vintage period, so if you want to get that vintage look, they are a must-have.
The Country Kitchen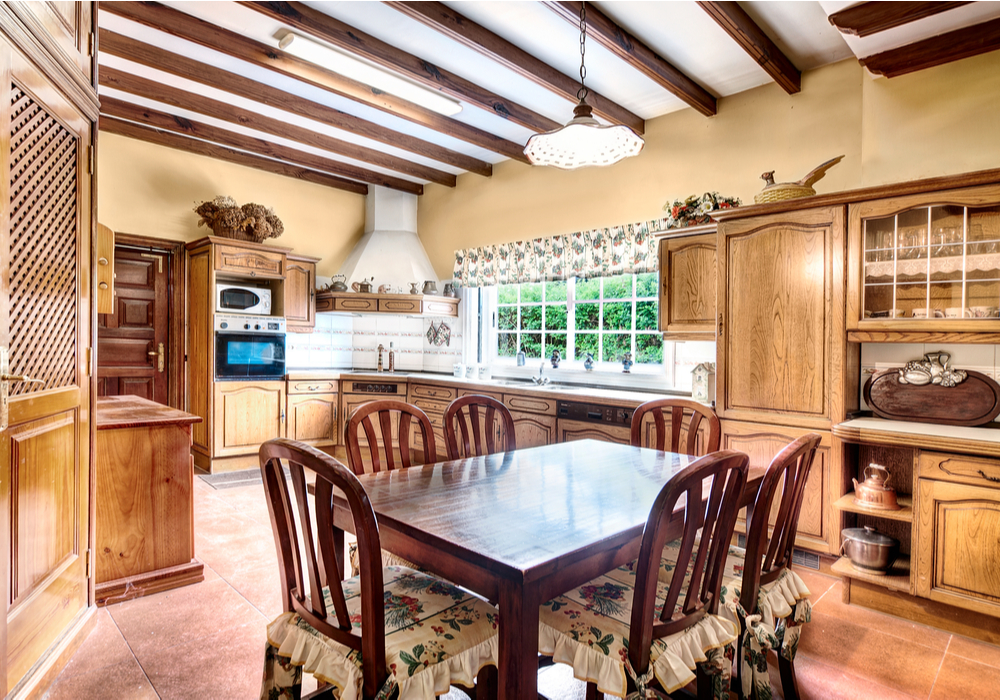 The timeless country style is all about giving your kitchen the look and feel of a cosy, country cottage. Think relaxing, rural, and natural – the perfect reminder of the countryside, even in an urban home.
Achieve the look with warm, autumn shades combined with pale or white walls and whitewash floors. Furniture should be leather or made of distressed wood or pine. Go for a range of textures to give it an authentic country look.
Accessorise with glass, tin, and leather. Checked and patterned fabrics (think stripes, animal patterns, autumnal prints) and wool cushions and throws can also help to give your kitchen a warm atmosphere typical of the country style. For lighting, candles and lanterns will cast a soft glow, and if you have the space for it, a log burning stove will always give a kitchen a country feel.
The Farmhouse Kitchen
The farmhouse style has some crossover with rustic and country in its focus on natural materials and large, comfortable open spaces. Farmhouse kitchens are designed for whoever is cooking to make large meals.
Get the look with wooden cabinets and make sure you have plenty of work space. If you can, an exposed brick fireplace to give your kitchen that super cosy farmhouse feel.
The Modern Kitchen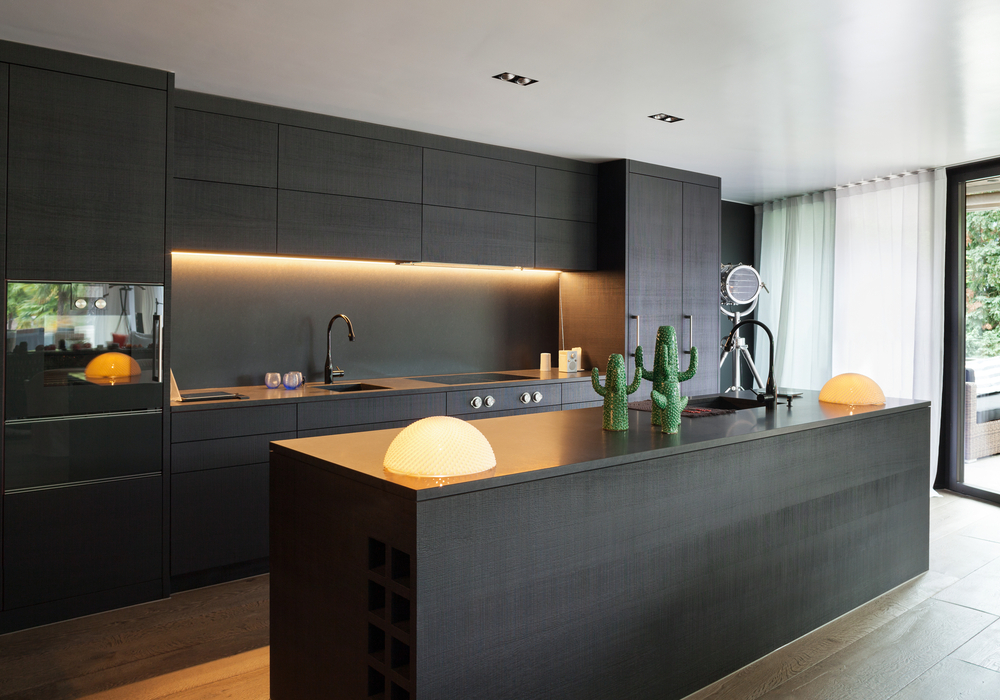 Interestingly, what is referred to as modern design is not as new as it sounds (you may well be thinking of "contemporary design"), but actually started around the time of World War I and is what "post-modern design" evolved from. Modern design is about clean lines, geometric forms, and flat surfaces, with little additional decoration.
Get the look with simple, sharp cabinets, flat surfaces, and uncluttered spaces. Things with no functional use traditionally had no place in a modern style kitchen, so minimal adornments for this look is key. Colours include white, beige, and black, and consider incorporating stainless steel and natural materials into your design.
Modern design tends be open plan, with unnecessary walls being, well, unnecessary. Plain windows help to bring in more light and keep the space feeling open and airy.
The Small Kitchen
The design of a small kitchen needs special consideration. Unlike larger designs, you won't spot an island or lots of unnecessary appliances in a small kitchen.
The most important thing to do with small kitchens in terms of design is to make the most efficient use of the space. Storage is key so that you can keep your surfaces uncluttered. Every single part of your kitchen should have its space maximised. Floor to ceiling cabinets and flexible storage are great ways to do this.
A pale and neutral colour scheme will make the space seem bigger and brighter. Match the walls and cabinets to enhance this effect. Combine this with a striking design for the floor and this will also make the space feel larger.
Instead of a standard extractor hood, if possible, choose an induction hob that also extracts, saving you wall space and making the room appear bigger.
The Industrial Kitchen
Industrial kitchens are inspired by big commercial kitchens, and were first seen in loft and factory conversions.
Get the look with exposed brick walls and pipes, neutral colours and adornments such as filament light bulbs and factory machine parts. Use materials like stainless steel, concrete, and upcycled wood
Try to go for open plan if space allows, and remember that functionality is key.
The Rustic Kitchen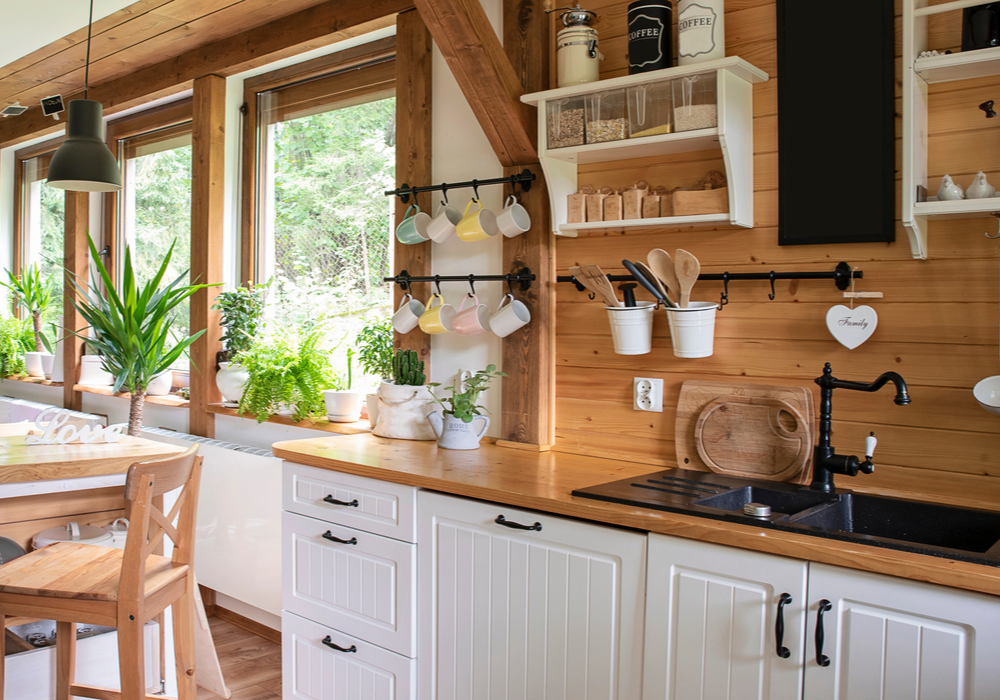 Rustic designs can cross over with other designs, such as modern and country.
Achieve the look with large pieces of handmade furniture – often made from heavy, natural-looking wood. Compared to the farmhouse style, this type of wood can seem unfinished. Accessories should have a worn look to them, as should cupboards and flooring.
You can also expose the brickwork in a rustic design, but give it a coat of white paint or cover it in a pale colour to avoid an industrial feel.
The Colourful Kitchen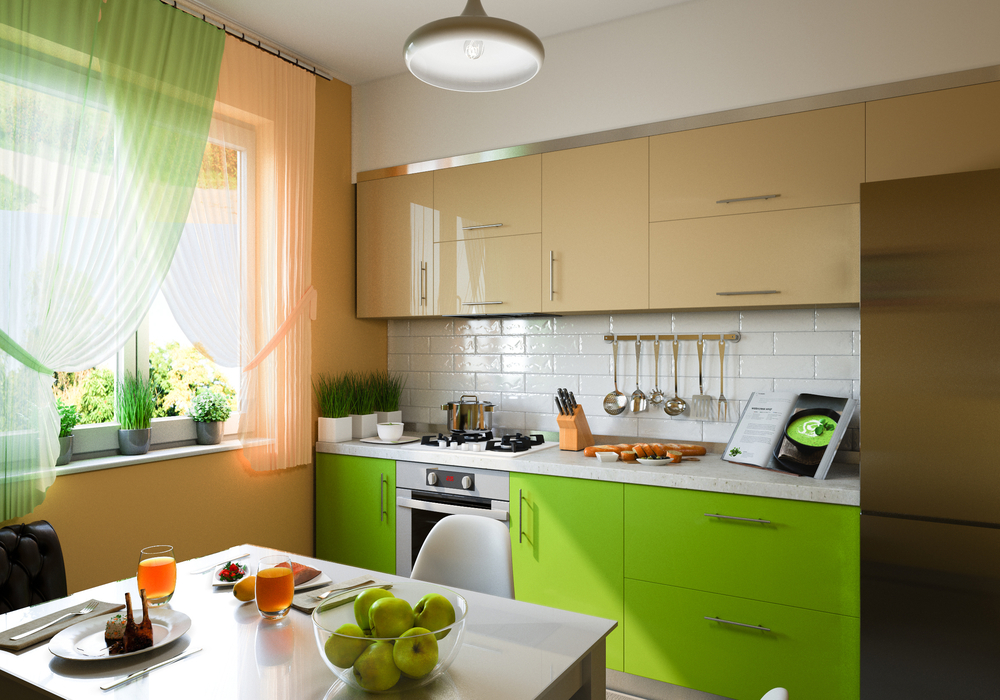 Colour is a great way to express yourself, and the colour schemes of a kitchen can totally change the character of the room. And you don't have to go out and out 1970s style with vivid orange or lime green.
Get a contemporary colourful kitchen by trying complementary colour pairings or having an accent wall or features (which is where you contrast a bold and lighter colour). You can also contrast a brighter colour with wood.
Colours can also create moods in a room. Yellow is energising, and a great colour for a kitchen. Try to avoid orange, as it is thought to stimulate hunger!
The Shabby Chic Kitchen
Shabby chic is an eclectic look that originated in the country style but has moved away from the decorative elements of country. There are some aspects of rustic and industrial that are incorporated into shabby chic. It is a relaxed mish mash of styles.
Get the look with well-worn furniture and an open layout. Pale colours such as white, grey, and green are often used with low slung shades or chandeliers. You are looking to achieve a warm look that is full of imperfections and uniqueness.
The Industrial Chic Kitchen
Industrial chic was a product of the 2000s, incorporating the features of industrial design and the subtle use of various elements of other styles, such as country and modern. Its aim is to combine an older feel with a more contemporary touch.
Combine exposed floors with contemporary rugs to get the industrial chic look.
Choosing metal finishes such as polished chrome will help to give a fashionable and update feel to your industrial chic kitchen. You can also add flashes of colour to give it an edge.
Similarly to industrial, exposed brickwork is a must, but try giving it a whitewash for a contemporary, chic feel.
Conclusion
You certainly can't use a lack of inspiration now as an excuse not to re-design your kitchen!
Whether you prefer the more traditional styles of modern, country, and farmhouse, or you're after the urban feel of industrial chic, there are plenty of ideas here to get your kitchen into shape.
Of course, don't feel constrained to following these styles to the letter. You can mix and match any of these styles to suit your tastes – your kitchen is your oyster!