The kitchen is the heart of the home.
If it doesn't have the right lighting, though, it can look dull or not be that pleasant to spend time in.
How much light does a kitchen need?
A kitchen is quite unique as compared to other rooms in the house because of how it requires different types of lighting because you do so many different tasks in the kitchen.
For example, you will need bright lighting for when you're cooking up a storm and ambient lighting for when you're seated at the kitchen table enjoying delicious food and good company.
With that in mind, let's explore some of the best kitchen lighting ideas.
What Are The Dangers Of Not Having A Well-Lit Kitchen?
If your kitchen doesn't have enough light in it, this can have unpleasant consequences.
These include:
Eye strain. If you struggle to read in the kitchen, this can make it difficult for you to do your tasks.
Inefficient cleaning. Have you ever tried to wash dishes when the lighting is too dim? You'll end up with items that are still in need of a good clean, which will waste your time.
You're often working with sharp objects in the kitchen, such as knives, as well as heated appliances, so you want to ensure that you have enough light to see what you're doing.
Best Kitchen Lighting Ideas For Your Home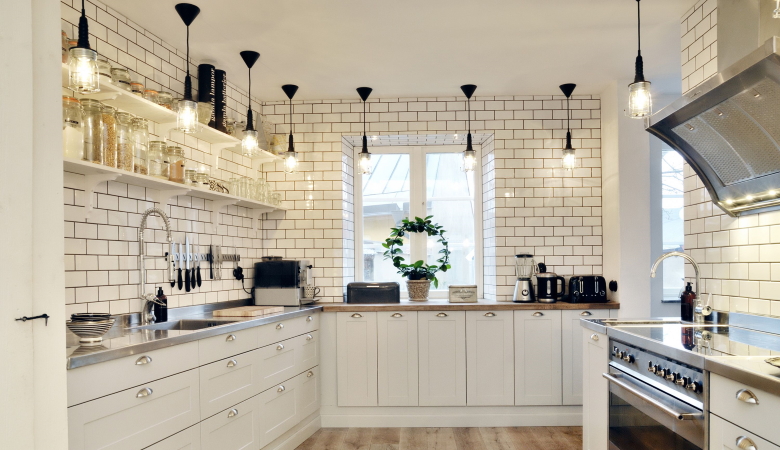 Consider Under-Cabinet Lights
You've heard of under-cabinet lighting, but you might not realise that this can take the form of task lighting in the kitchen.
That's because when you illuminate the spaces underneath your kitchen shelves or cabinets, this gives you the light you need for a variety of tasks, such as measuring out ingredients for baking, chopping herbs, or reading recipe books.
Opt For Task And Ambient Lighting
Both ambient and task lighting are required in the kitchen.
Ambient lighting refers to soft light overhead that gives you gentle light so that you can see around the kitchen.
Ambient lighting can take the form of recessed lights that are installed inside the ceiling; chandeliers; or lanterns.
By comparison, task lighting is brighter. It should bring light to areas where you work in the kitchen, such as above the sink or countertop.
Pendant Lights Are Essential
Maybe you've seen pictures of a row or pair of pendant lights hanging over a kitchen table and thought how pretty it looked.
Pendant lights do contribute to the decor of your kitchen, but they also provide light to a spot where you need it, which is why they're great for hanging over your kitchen island. They're a perfect example of task lighting.
If you have a high ceiling in your kitchen, pendant lights that hang lower over the island will help to keep everything in proportion.
You can also benefit from hanging a pendant light over the kitchen sink so that you get enough light for when you wash dishes at night.
Think About Adding LED Strip Lights
LED strip lights are also known as LED tape.
They are small LED lights that have an adhesive backing so they're easy to install.
You can place LED strip lights under cabinets to give you more light, or even inside drawers or cabinet doors to give you enough light when you're searching for a can of food or specific utensil.
When installing these lights, make sure you keep them one to three inches away from the front of the cabinet so that they won't cause glare.
Choose The Right Bulbs
When choosing lighting for your kitchen, chances are you spend a lot of time thinking about the kind of pendants or fixtures you want. But don't forget to think about the lightbulbs. If they're not of the right temperature, they can make your kitchen lighting look cold or harsh.
Since you'll be doing various tasks in the kitchen, a good tip is to choose bulbs that are bright or cool white. This is because you want your kitchen to have an energetic feeling. Daylight bulbs are also good and they're designed to emulate the sun's natural light.
They provide the best contrast among colours, so they're ideal for doing precision tasks while providing warmth to your kitchen design.
Bring In Natural Light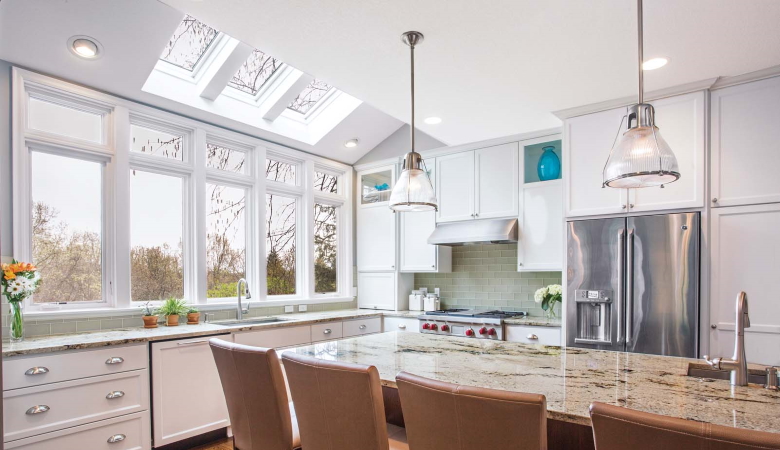 Some natural light is always a winner, and this will not only increase the general light in the kitchen but make your kitchen appear bigger.
Here are some great ideas for adding more natural light to your kitchen.
Consider having narrow windows that are placed between the upper cabinets. This is a great idea if you want more natural light but don't have much space for it.
Install porthole windows. These are round, small windows that are positioned high up on the wall. They're also a good option if you don't have a lot of space.
Opt for glass panes. These can be added to the kitchen door and work well to bring in a bit more light from elsewhere in the home if you don't have many windows in the kitchen.
Extra Tips For Kitchen Lighting
Don't think one light will give you all the lighting you need. While you might think a ceiling-mounted light fixture will be enough to give you enough light in the kitchen, the problem with this is that it produces a lot of glare without giving you enough light in areas where you need it the most.
Consider adding accent lighting. Accent lighting is a spotlight on certain items in the room, therefore adding to the overall design of the kitchen. You could put accent lighting in a glassware cabinet to add some illumination to it or even above a work of art that's hanging on the wall to make it more of a statement piece.
Make the lights dimmable. This allows you to have more control over how much light you get whenever you need it. For example, when you're chopping food or washing the dishes, you can brighten the lights, then when you enjoy a glass of wine with your partner or have a meal with family at the kitchen table, you can dim the lights to create a more ambient environment that's easy on the eye. Note, however, that you'll require more than one dimmer. You should have separate ones for the different types of kitchen lighting: ambient, accent, and task lighting. Dimmable lights also help to bring all the different lighting features together.
When installing decorative lighting, such as in the form of pendants and chandeliers, you need to take the size of your kitchen into account. Basically, if you have a larger kitchen, it's more essential to have these decorative elements. Whatever the size of your kitchen, ensure that the fixtures' scales are appropriate for the space.
Put your task lighting in the right places. You can't just throw a few task lighting fixtures around the room as this can have the unwanted side effect of producing shadows. To prevent that from happening, some important locations for task lighting include underneath overhead cabinets, above the kitchen island, as well as places where you'll need a lot of light to see what you're doing.
If you want to hang a chandelier in your kitchen, make sure that it hangs about 30 or so inches from the tabletop. You don't want it to be too close as this will make your kitchen look smaller. The chandelier's diameter is also important. It should be a foot less than the tabletop width. Alternatively, choose two smaller chandeliers over a long island or table, but make sure that their diameter is one-third of the width of the table.
Think about your kitchen colour scheme. If you have bright neutral colours in your kitchen, such as white or beige, you will probably get away with fewer light fixtures because the light will have the effect of bouncing off these surfaces. However, if your kitchen is darker, you will need extra light to ensure that it's properly lit.
Recessed lights should be used to light up the whole kitchen, not just certain task-focused areas. Make sure that they're approximately 24 to 42 inches apart for the best effect.
Related Questions
What's a clever way of adding light fixtures to a ceiling that's not perfectly level?
Consider monorail lighting, which is a metal track that's shaped into curves to suit your kitchen's interior design.
It's suspended from the ceiling and doubles-up as a work of art.
How much more lighting does a dark kitchen require?
You're looking at approximately one-third more light than what you'd need for a lighter kitchen.
Conclusion
You do a lot in the kitchen, from cooking and cleaning to having quality time with loved ones.
There's no doubt that your kitchen is one of the busiest rooms in the home! That's why you need to pay special attention to your kitchen lighting.
In this article, we've provided you with the essentials you need to make your kitchen come alive and be a room in the house in which you want to spend more time.
Resurces
BHG.com