Being able to make your own popcorn at home is fun for the whole family.
It also tastes so much better than if you buy microwave popcorn because the latter is always packed with artificial ingredients.
How do popcorn makers work?
They heat up the popcorn kernels so that they can pop and become crunchy. Since popcorn kernels have water inside them that becomes steam when they get heated up, this makes the kernels burst into popcorn.
If you're interested in purchasing a popcorn maker, you'll need to explore the different types of popcorn makers that are available.
But first, let's jump into the question of whether or not you even need to buy a popcorn maker.
Do You Really Need A Popcorn Maker?
You can make popcorn in various ways, such as by using a pot on the stove, so you might be wondering why you need to purchase a popcorn maker?
These appliances are much easier and faster to use and will increase the success of your popcorn. There are three main types of popcorn makers to choose from. Let's take a look at them and what they have to offer.
Types Of Popcorn Makers
Air Poppers
These are small electrical appliances that work by circulating hot air around so that the popcorn kernels can pop. They contain a fan, heating element, and enclosed air path that vents into a sealed container.
Air is blown over the heating element and works its way through the path and finally out of the vent. When the air is hot enough, it moves over the popcorn kernels. When the kernels pop, the popcorn comes out of a spigot, straight into your bowl.
This way of making popcorn is much healthier than using microwave popcorn because it doesn't require any oil or butter. While these popcorn makers can be a bit costlier than other types of popcorn machines, they are easy to clean.
Microwave Popcorn Makers
How these popcorn makers work is that you put popcorn kernels into their vented bowls and then microwave them. The microwave will heat up the bowl and pop the popcorn kernels that are inside them. When the popcorn's ready, you can conveniently eat it directly out of the bowl.
These popcorn makers are basically just containers. They are easy to clean in the dishwasher and you can find some with a capacity of around 12 cups, so they're perfect for family movie nights.
The drawback of these types of popcorn makers is that you have to ensure you set the microwave timer to the right time so that you don't burn the popcorn.
Stovetop Popcorn Makers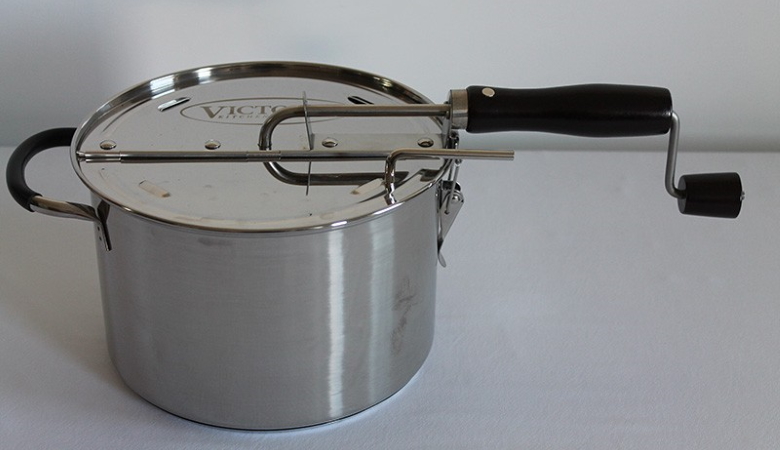 These popcorn machines look like a pot with a lid, but the lid has a stirring mechanism to turn the popcorn kernels.
These popcorn makers are also easy to clean, but when making the popcorn you have to control the heat so that they don't burn. Stovetop popcorn makers will make use of hot oil to pop the kernels.
There are benefits to making stovetop popcorn as it's said to taste better than popcorn made in the microwave. You will also be able to use less oil or butter with stovetop machines, giving you a healthier bowl of popcorn.
While making popcorn in a pan on the stove is said to be fine without the use of oil or butter, this is usually not the case, so that's where stovetop popcorn makers come out on top!
How To Choose A Popcorn Maker
If you have your heart set on buying a popcorn maker, you should make sure that you find one that has all the best features. Here are some important things to look for:
Non-stick surfaces. This helps to make cleaning your popcorn maker much easier. If your machine is easy to clean, you're likely going to want to use it regularly – otherwise it will just end up collecting dust in a kitchen cupboard.
You can find popcorn makers in a variety of materials, such as silicone, glass, plastic, and stainless steel. Those made of steel, glass, and aluminum tend to last longer than those made of silicone or plastic, so choose them for greater durability.
Stirring mechanism. This needs to be present in the popcorn maker so that all the kernels will get popped, otherwise you'll end up with unpopped popcorn.
You should buy a popcorn maker that is large enough for your needs. Generally, a four-ounce maker will be enough for five people.
Best Popcorn Makers On The Market
If you're interested in purchasing a popcorn maker for your home, finding one of quality is important.
Here are some of the best popcorn makers on the market.
This popcorn popper will give you 12 cups of delicious popcorn.
It's free of melamine and BPA, so you don't have to worry about harmful toxins getting into your popcorn snack.
You can use it with or without oil, so it can serve as a much healthier snack than what you'll find with microwave bag popcorn. It comes in a convenient all-in-one bowl that you use to make the popcorn on the stove and then eat out of.
It's not only easy to use but also easy to clean, which is a bonus. It takes about three minutes to make a bowl of popcorn with this popper.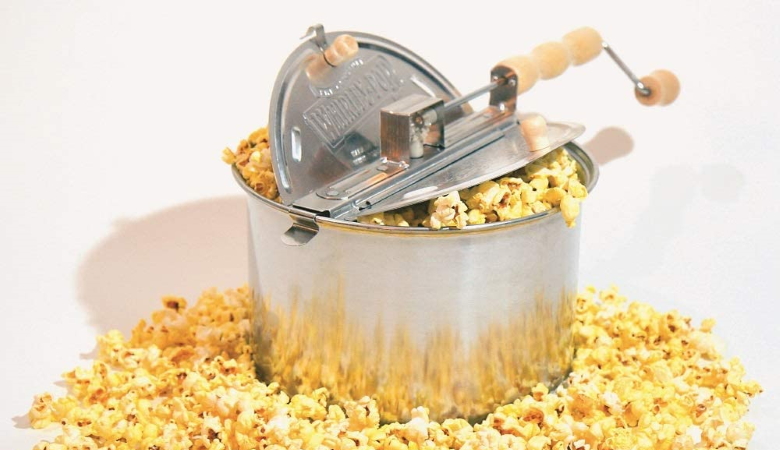 This popper can make six quarts of popcorn in three minutes, and you don't have to worry about the popcorn burning.
This is thanks to the patented stirring system of this appliance that prevents the kernels from burning by moving them around until they're ready to pop.
When you've made popcorn, all you have to do is wipe the stovetop popper down with a paper town. It's made of aluminum so it's both sturdy and lightweight.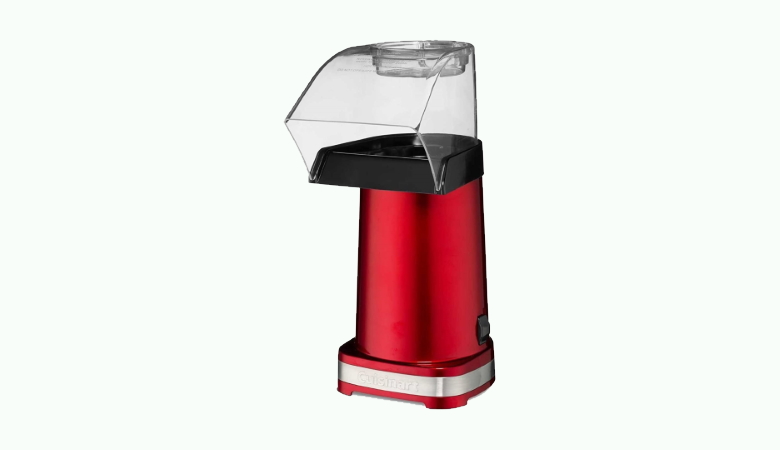 This popcorn maker has a popping chamber that will also make popcorn in three minutes.
Its hot air can produce up to 10 cups of popcorn that are pushed out of the chute so they go straight into your bowl.
This popcorn maker has convenient cord storage so you don't have to worry about it looking untidy when you're not using it. It also has a removable chute and butter warming tray so that you can clean the appliance without a hassle.
This Cuisinart popcorn machine makes lovely big, fluffy popcorn to enjoy on family movie nights.
Mistakes To Avoid When Making Popcorn
To ensure you get delicious, crunchy popcorn every time you make it at home with your popcorn maker, there are some important mistakes to avoid – because, after all, tasty popcorn doesn't just depend on having a quality popcorn maker.
You Don't Store Your Kernels Properly
Make sure you keep your popcorn kernels in an airtight container in a dry, cool place. Never store them in the fridge or leave their container open.
You Put Too Many Kernels in the Popcorn Maker
A good tip is to remember that a quarter-cup of kernels will give you two bowls of popcorn, so don't flood the machine. You'll end up with too much popcorn which will have to be eaten later – it's just not the same as when it's freshly made!
You Add Salt to the Kernels
If you put salt on the kernels while they're in the process of popping this will make the popcorn come out too tough.
You Use a Flavoured Oil
Usually, neutral-flavoured vegetable oils are best for popcorn. Also, make sure that the oil is thin so it can provide an even coating over the kernels when it's hot but it should be thick enough when the popcorn cools down – this prevents the popcorn from being too oily.
The good oil that achieves both goals is coconut oil!.
Related Questions
How long does popcorn last?
After making popcorn at home, it can last for a few days. You can reheat it on the popcorn maker's warming plate or on the stovetop but keep the heat low so you don't burn it.
Why does your homemade popcorn come out chewy?
Using too much oil can cause your popcorn to be chewy. Here's a good guideline to follow: use one tablespoon of oil for every quarter-cup of popcorn kernels.
Conclusion
If you and your family love popcorn on a regular basis, you should invest in a popcorn maker. These appliances are worth it, especially if you want a healthier take on the crunchy, delicious snack.
In this article, we've looked at what you should know about popcorn makers and we've also included some of the best popcorn makers currently on the market.
Happy snacking!
Resources
eHow.com
Slate.com
FoodsGuy.com