If you're pregnant and battling to feel comfortable when you lie down, you might be tempted to purchase more pillows.
After all, the last thing you need is to battle insomnia or discomfort at night!
You might also want to buy a pregnancy pillow.
What is a pregnancy pillow?
This is a type of pillow that's been designed to support physical changes throughout your pregnancy so that you can sleep in a much more comfortable way.
With that in mind, let's explore everything you need to know about pregnancy pillows.
Are they really worth it?
Pregnancy Pillow Benefits
There are many benefits you can gain by using a pregnancy pillow.
These types of pillows are especially useful during the third trimester of your pregnancy when you're likely to feel like it's almost impossible to get comfortable when you try to sleep.
Here's a rundown of pregnancy pillow benefits you should know about.
You Can Reduce Bodily Aches and Pains
When your weight increases during pregnancy, this puts more pressure on various parts of your body, such as your back and hips, so you're likely to feel aches and pains in these areas.
A pregnancy pillow will be able to give your body more support, especially in these areas.
You Can Sleep on Your Side
During pregnancy, it's recommended that you sleep on your side as this improves blood circulation.
However, this can be uncomfortable with a regular pillow that doesn't support your growing and changing belly. That's why a pregnancy pillow can help.
You Can Get More Quality Sleep
If you're trying to sleep on uncomfortable pillows, these will reduce your sleep quality.
That's something you should try to avoid because you need your sleep to help you navigate all the changes you're undergoing during your pregnancy.
By helping you feel more comfortable and supported, a pregnancy pillow can ensure you sleep for longer and get deeper sleep.
You Can Use a Pregnancy Pillow after Giving Birth
Don't think that you won't need a pregnancy pillow once you've given birth. It can help you when you breastfeed your baby.
It will also help you, especially if you're still in pain after the delivery because of how it will soothe and support your body.
Five Types Of Pregnancy Pillows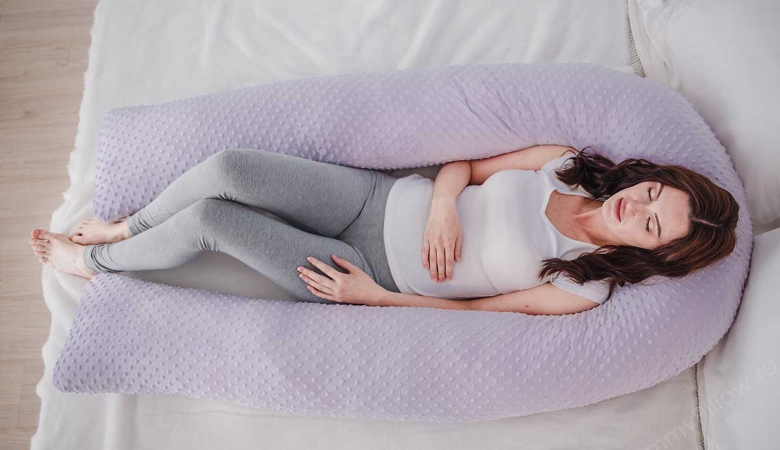 There's not just one type of pillow available to you when you're pregnant.
Here's a rundown of five types of pregnancy pillows.
Maternity Cushions
These are also known as wedge pillows.
They're small pillows that come in a triangular or round wedge, and they're great for giving you localised support where you need it, such as behind your knees to relieve lower back pain or underneath your head to elevate your sleeping position if you suffer from heartburn.
You can also use this cushion as a regular cushion or pillow. However, bear in mind that wedge pillows are not made in a standard design. Different wedge pillows will have different levels of incline, so you will have to try multiple ones out to ensure that you find the most comfortable one.
Full-Length Pillow
This is a pillow that covers the length of your body. It's mainly used to provide support to your belly, legs, and arms. However, it won't give you a lot of back support, so that's something to bear in mind if you're specifically battling back pain and need relief.
Total-Body Pillow
This is all-round support for your body. It's a large pillow that comes in two common shapes: the C-shaped pillow, which supports your back, legs, belly, and head; and the U-shaped pillow that gives you support for your belly and back at the same time.
Bean Pillow
This is a bean-shaped pillow that's compact and can be used to give you more support for specific areas of your body. You can use this pillow when you're sitting in a chair, on the sofa, or in bed. Since the bean pillow is compact, it's portable.
Inflatable Pillow
This type of pillow can help you to sleep on your stomach without putting pressure on your belly. It has a hole in its design for your belly so that no pressure is placed on it. Since you can deflate this pillow, this makes it easy to store and carry.
Inflatable pillows are also great for you if you want to adjust the level of firmness and support from one day to the next.
How To Choose The Perfect Pregnancy Pillow
Ready to buy a pregnancy pillow to encourage healthier, happier sleep?
Consider these points:
Its Size
If you sleep alone, you might not worry about how large your pillow is, but if you share the bed with a partner (or pets!), consider that body-sized pregnancy pillows might take a lot of space.
Its Shape
If you have the tendency to change your sleeping position a lot during the night, it's worth investing in a U-shaped pillow. This will prevent you from having to adjust your pillows every time you toss and turn.
Its Material
You can find pregnancy pillows that are made out of natural materials such as cotton or synthetic ones like polyester. If you want a breathable material that stays cool, you should opt for a cotton pillow.
Its Firmness
If a pillow is made with polyester it will usually be softer and this is useful if you only want a little bit of support. For more support, such as if you have bodily aches and pains, you should choose a foam pillow.
Its Price
Of course, you should consider the cost of the pregnancy pillow. You can find pillows in various price ranges, but make sure that the pillow you're looking for has the features you need, such as offering you specific support and relieving pain.
Your Sleeping Position
It's common to sleep on your side during pregnancy, and both U-shaped and C-shaped pillows will help in this regard. If you like to sleep on your belly, an inflatable pillow can help you to feel more comfortable.
But be warned that it might not feel comfortable for your neck, so test it out a few times before committing to it.
How Can You Clean Your Pregnancy Pillow?
How you'll clean your pregnancy pillow is an important thing to consider before you purchase one.
You don't want to be stuck with a pregnancy pillow that is difficult to keep clean, and you certainly don't want to have to deal with a dirty pillow.
Therefore, it's good to look for a pregnancy pillow that can be put into the washing machine when it needs a clean. At the very least, you will find pregnancy pillows that have removable covers which you can remove and wash in the washing machine.
Bear in mind that if you can wash the entire pillow in the washing machine, you will need to make sure that it can accommodate the large size of the pregnancy pillow.
On the other hand, if you're removing the pillow's cover so that it can be washed, replacing the cover could prove to be a difficult task if the pillow is unusually-shaped or very big.
Related Questions
When's the best time to start using your pregnancy pillow?
You can start using this type of pillow at any time, but here's a good tip: use a pregnancy pillow when you find it difficult to sleep or change positions during sleep. This tends to happen when your belly has started to grow.
Is it good for pregnancy pillows to be made out of memory foam?
While memory foam is great for molding to your shape and providing support, it tends to trap more heat. This is why you should reserve memory foam for smaller pillows or cushions.
How much sleep do pregnant women need?
Women who already get eight hours of sleep a night will need to increase that number to 10 during pregnancy. Generally, you should aim to get two extra hours of sleep every night.
Conclusion
Pregnancy can be painful and uncomfortable, especially during the third trimester. This is why you need to have as much support as possible.
Pregnancy pillows can come in very handy during pregnancy, and they could even help you to feel more comfortable after giving birth.
In this article, we've looked at the different types of pregnancy pillows that are available and what features to look for so that you can buy the most comfortable one.
Say goodbye to pregnancy-related aches and pains, and get a great night's sleep.
Resources
VeryWellFamily.com
RMCCares.org