One of the recent trends in cooking and kitchen appliances is to make use of transparent units.
You've probably seen those cool transparent kettles on the market, but you can also find see-through toasters.
Are these just about having attractive appliances? You have to admit these toasters do look very chic and they elevate the boring toaster into something much more stylish. But they're also useful.
See-through toasters are practical because you can see the slices of bread inside the toaster, therefore you can prevent them from getting burnt.
Should you purchase a see-through toaster?
Let's explore its benefits as well as everything else you need to know about these trendy appliances.
What Are The Benefits Of A See-Through Toaster?
If you find that the heat settings on your current toaster never give you the browning of your toast that you want, a see-through toaster will be helpful.
You'll be able to pull the bread out at exactly the right time.
A see-through toaster can make it much easier for you to multitask in the kitchen. You don't have to keep switching off the toaster to see how well your toast is being made. You can do other things and merely glance at the transparent window of the toaster to be sure that the bread is browning correctly and not too much.
Some see-through toasters have slots that are big enough for you to toast other breakfast foods, such as bagels or artisan breads. This has the effect of making these toasters much more versatile than what you can achieve with a regular toaster.
In some toaster models, the glass panel or window easily slides out of the appliance. This makes it easy to clean when it gets dirty.
Some high-end toasters even have bake and broil options, turning the humble toaster into a much more specialized appliance.
You can find some toasters that have roll-top sides. This makes the toast easier to reach for, while protecting your hands from the hot appliance. Perfect!
With their glass and/or metal design, these toasters are sure to look fashionable on your kitchen counter. Just because they're meant to toast your bread, it doesn't mean they can't look good while doing it!
Things To Bear In Mind About See-Through Toasters
Although they have many benefits, there are some important things to consider before you purchase a see-through toaster.
Let's take a look at them.
Some of these toasters have plastic housing to make them safe to touch, but the ones made with stainless steel or other metals can be hot so you have to be careful when purchasing these, especially if you have kids.
However, choosing a see-through toaster that's been made with strong materials such as stainless steel instead of plastic will make it last for a longer time.
Although these toasters make use of glass, the glass is usually heat-resistant. But, food-grade or food-safe glass is something to look for when purchasing a see-through toaster. This means that the glass is of a high quality and is safe for contact with food.
Dual-glass panelled toasters are especially great for visibility as they enable you to look at the toast from different angles. You can also find glass slab toasters that give you complete visibility but these are a bit more difficult to find.
How Does A See-Through Toaster Work?
While you might wonder how see-through toasters work, they basically operate in the same way as regular toasters.
Electricity flows through the appliance and thin filaments heat up so that the bread can become brown in an even way.
How glass toasters vary from conventional toasters is that the filaments are placed differently seeing as though they can't be put directly over the glass.
In addition to the above, these toasters have walls that are made of tempered glass. You'll find that they usually have two walls to keep your hands safe and to increase the appliance's insulation.
The inner glass can be removed from the bottom of the unit for easy cleaning.
Best See-Through Toasters On The Market
If you're interested in purchasing a glass toaster for your kitchen, you'll want to know which models are the best, with the features you need to make delicious toast every morning.
We've got you covered.
Here are three of the best see-through toasters to try.
This is a popular glass toaster that comes up a lot as the best and for good reason.
Here are its pros and cons.
Pros

You can heat up your bagels, thanks to the appliance's dedicated bagel reheat function.
It comes in five gorgeous colors, including red.
It has a lovely retro appearance.
It has seven levels of toast browning.
It comes with a recipe book.
Cons 
The toaster's metal slots become very hot, so you have to be careful when handling them.
While it looks good with its retro design, this might not be compatible with contemporary kitchens.
This is another popular glass toaster, and it's packed with some great features.
Let's see what it has to offer.
Pros
This toaster has a crumb tray so that you can keep your kitchen surfaces clean.
It has a bagel-warming function, and can accomodate larger slices of bread.
It comes with tongs included to make it easier and safer for you to take the toast out when it's done.
Its slot is wide enough so you can toast a variety of foods, such as bagels and crumpets.
Cons
Some people who have purchased this toaster have reported that it takes a longer time to toast bread as compared to a regular toaster.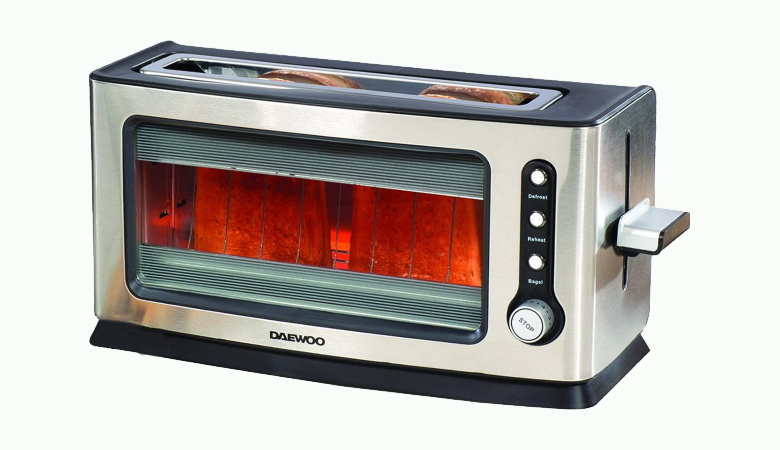 You'll love that this glass toaster can reheat and defrost bread, and toast bagels.
It has some other features to know about. Let's check them out.
Pros
It has seven heating functions so you can brown your toast perfectly every time.
It works quickly, thanks to its 900W output, so you don't have to waste time in the mornings.
The glass can be removed for easy cleaning, thanks to how it's attached to a latch underneath the toaster.
Cons
It's quite large for a toaster, so it won't be suitable for you if your kitchen is short on space.
Some people who have purchased this toaster have reported that it doesn't toast their bagels properly, but instead just warms them.
Do You Need A See-Through Toaster?
By now you might be raring to purchase a glass toaster.
But do you really need one or is this an unnecessary expense if you already own a toaster?
Here are times when buying a see-through toaster will be worth it.
You love eating bread. As mentioned earlier, many see-through toasters are not just limited to toasting sliced bread. They can be used for buns, artisan bread, as well as other baked goods, such as crumpets and bagels. So, if you're looking for a versatile toaster that can do more than what's achieved by a conventional toaster, a glass toaster will be a game changer in the kitchen when you're whipping up meals for the family.
You're tired of making burnt, or pale, toast. If you're pressed for time in the mornings and you have to rush through the process of making breakfast, chances are that you're accustomed to having to scrape burnt parts of bread off your toast or eat under-toasted bread. These situations can be prevented in future if you purchase a see-through toaster.
Related Questions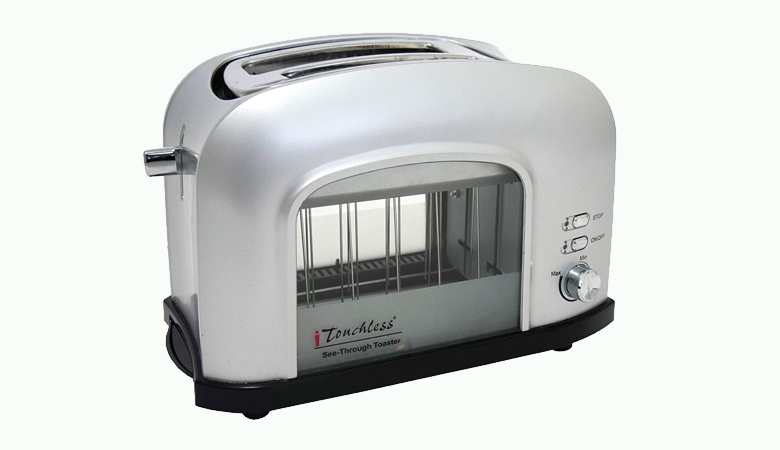 Are glass toasters expensive?
Just because they look expensive it doesn't mean they have to be. You can find glass toasters in different price ranges, with some being under $50.
What is a glass toaster oven?
This is a wider appliance that can accommodate trays of food and frozen food as well as bread. Some of these appliances are built with glass doors on the front, while others also have glass on the top for greater visibility.
Is eating burnt toast bad for you?
You want to avoid eating burnt toast because it can contain acrylamide, a chemical produced when food is cooked at high temperatures, such as during toasting or roasting. This chemical is a probable human carcinogen.
Conclusion
If you want to take your morning toast-making up a notch, consider investing in a glass, or see-through, toaster. As we've seen in this article, they offer many benefits.
We've featured some good reasons why you should go ahead and purchase a glass toaster, and we've also looked at some important information to know about them and how they work.
Resurces
Medium.com