Having a vacuum cleaner in the home is essential.
It's so much easier to use than a broom to clear away dust and debris from your floor, plus a quality vacuum cleaner will be able to offer many other functions.
Shark and Dyson are two of the best quality vacuum cleaner manufacturers to consider.
Do both Shark and Dyson offer a range of vacuum cleaners?
Yes, vacuum cleaners in both brands can be canister, stick, robot, upright, and handheld, depending on your preferences.
It's difficult to know which vacuum cleaner to choose. To help you out, let's explore Shark vs Dyson vacuums to see which ones are your best bet for a cleaner house.
While they both offer high-quality vacuum cleaners and have excellent reputations backing them, their products do have some important differences to know about.
How Do Shark And Dyson Vacuum Cleaners Compare?
In order to figure out which vacuum cleaner you should choose, it helps to compare Shark and Dyson vacuum cleaners according to various features.
So, with that in mind, let's see what the best features are that Shark and Dyson have to offer their consumers.
What's Great About Shark Vacuum Cleaners?
"Duoclean" Technology
Shark vacuum cleaners have what's known as duoclean technology.
What this refers to is a counter-rotating brush bar that's situated in the main floorhead of the vacuum cleaner and it enables you to pick up large debris as well as fine dust on a variety of floor types.
"Lift Away" Feature
This is a feature that detaches the dust container so that you can use the vacuum cleaner in difficult-to-reach areas, like on spiral staircases.
"Anti-Hair Wrap" Feature
If you've ever experienced the frustration of hair and other debris getting stuck on the brush bar and reducing the suction power of your vacuum cleaner, you'll love this feature on Shark vacuum cleaners.
It basically makes use of a comb located behind the floorhead of the vacuum cleaner that pulls hair from the brush bar before sending it to the dust container.
What's Great About Dyson Vacuum Cleaners?

"Ball" Technology
Dyson has their famous ball technology to offer, which basically means a ball is included in the vacuum cleaners' designs.
This might not sound like much, but the ball is a game changer: it moves in every direction without you having to put in a lot of effort to make the vacuum cleaner go to places you want it to go.
"Bagless" Feature
Dyson vacuum cleaners have an exceptional feature that makes using vacuum cleaners so much easier: instead of dirt and dust accumulating inside a dust bag, these vacuums move the dirt straight into the canister.
"Cyclone Technology" Feature
This feature is one of Dyson's most popular and it forms the basis of all their designs. Cyclone technology is what makes Dyson vacuum cleaners so efficient at removing microscopic particles from floors and carpets.
The machines have six layers of machine filtration so that they're capable of removing 99.97 percent of microns that are as tiny as 0.3 microns.
Since the system is fully sealed, it keeps the dust inside the machine and airflow moves through the filtration layers so that clean air is released into your home.
Shark Vacuum Vs Dyson Vacuum: What Are Their Similarities?
Both Shark and Dyson vacuum cleaners have some similar functions and features. Let's take a look at these in greater detail to see what you'll gain from both brands.
Swivel Steering
This is a feature that makes it so much easier to move your vacuum cleaner around, shortening your vacuuming time and reducing aches and pains during the process.
If you have kids or pets, you'll know that sometimes you have to move your vacuum cleaner around objects, which can be a hassle, but the swivel steering feature enables you to do it much easier.
Vacuum cleaner models such as the Shark Rocket Pet Pro and Dyson V11 have this function installed.
HEPA Filters
If you want to be able to remove more particles from your home, such as allergens, you'll want to invest in a vacuum cleaner that contains HEPA filtration.
This can be found on various Dyson and Shark models, such as the Dyson V10 and V11, and the Shark Navigator and Shark Rocket Pet Pro.
Large Dust Bag Capacity
Being able to use your vacuum cleaner for a long time before cleaning out its dust bag can reduce your stress. This feature is available on many Dyson and Shark models, such as the Shark APEX and Dyson Ball Animal 2.
These come with a dustbin capacity that's greater than one litre. The Dyson Ball Animal 2, for example, offers over two litres of capacity, which is great for cleaning larger living spaces.
Cordless Vs Upright: What Do The Brands Have To Offer?
Since both brands offer lots of different types of vacuum cleaners and have outstanding features to make vacuuming your home easier, to really compare them we have to look at different vacuum cleaner types.
So, let's start by comparing Shark and Dyson vacuum cleaners according to their cordless vacuums. We'll then move on to upright vacuum cleaners.
Cordless Vacuums
Dyson
Dyson has four cordless vacuum series available, and they vary when it comes to their features and prices.
But, all four series enable you to transform from a stick to a handheld vacuum and the models are light enough to move around.
It's easy to navigate your way through the different Dyson series that are available, thanks to how they keep improving with every series that's released.
For example, Dyson models that you can buy for less money will give you features such as basic suction ability and a lightweight design, but some models will also give you basic filtration of allergens.
As you move up to higher price ranges, you'll find that the features become better. You'll have greater suction power, advanced filtration of allergies, and some models will even offer you LCD screens and surface detection.
Shark
When it comes to Shark cordless vacuum cleaners, the company has stopped releasing new models.
However, they do still have a few cordless models that have some interesting features and they vary in price to accommodate different budgets.
For example, The Shark Navigator is budget-friendly while being great for spot cleaning, as well as for use on both hardwood floors and carpets. It even has a swivel head.
By comparison, the Shark Rocket Pet Pro is a bit more expensive but can be used as a handheld vacuum, it's got a HEPA filter, and it's been designed with lights so you can even use it when visibility isn't that great.
Upright Vacuum Cleaners
Dyson
Dyson's range of upright vacuum cleaners come with ball technology installed. This makes it easier to move the vacuum cleaners around the home, such as in tight corners and on the stairs.
Some of them have extra features, such as being asthma and allergy friendly, and having over five gallons of capacity.
Dyson also has some interesting features when it comes to its filters. Some models will have no filters to wash, while others will have washable lifetime filters, so there's something for everyone's preference.
Shark
Shark upright vacuum cleaners have some essential features you need, such as allergen filtration, powerful suction, and deep cleaning.
Some models in this range also offer Powered Lift Away, a feature that enables you to detach the vacuum cleaner pod and use a motorised brush roll to clean underneath furniture and other hard-to-reach places.
Best Shark Vacuums Vs Best Dyson Vacuums
To further zone in on which vacuum cleaner brand to purchase, it's worth comparing actual vacuum cleaner models in both brands. Here we're looking at some of the best models that both Shark and Dyson have to offer.
Dyson V11 Torque Drive Vs Shark Apex AZ1002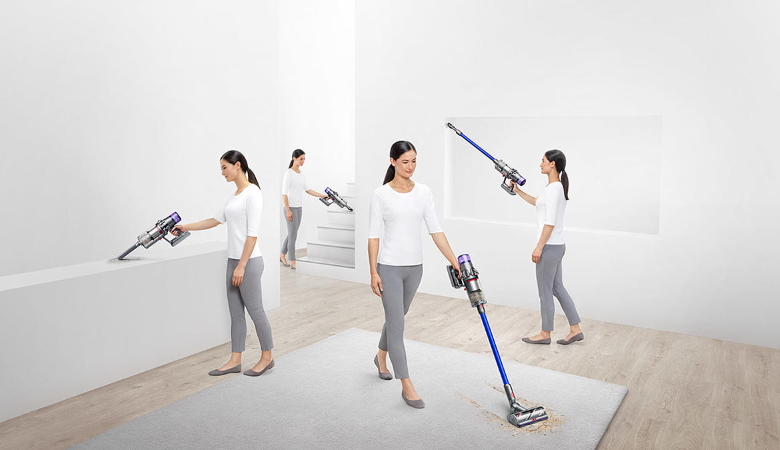 If you're looking for a dream vacuum cleaner, it's said that the Dyson V11 Torque is the one to purchase.
It's cordless and lightweight while having a chip installed that changes the cleaning mode of the vacuum based on the floor! It's also equipped with an LCD screen so you can keep an eye on the vacuum cleaner's battery life.
By comparison, the Shark Apex has Zero-M technology that uses a special comb and brush roll in the vacuum cleaner's head to remove tangled hair. It's very powerful in terms of its suction and has a lift-away feature.
You can use it on carpets and hard floors, and it's got a HEPA filtration system. It's easy to empty the dust canister and the vacuum cleaner also has LED lights – on both the handle and nozzle.
Potential Drawbacks of the Dyson v11 Torque
You have to press the trigger and keep holding it so that you can power the vacuum. When you release it, the machine stops. This feature was designed as a way to save battery life, but it can be tiring for your finger. It would be good if you could lock the trigger in place.
Potential Drawbacks of the Sharp Apex
The Shark Apex is louder than other Shark models.
It feels a bit heavy to move around.
Dyson Ball Animal 2 Vs Shark Rocket Pet Pro With MultiFlex
The Dyson Ball Animal 2 is a very popular Dyson vacuum cleaner model, and for good reasons.
It's said to be Dyson's most powerful vacuum cleaner. It's upright and corded, but it has an attachment that's resistant to tangles.
It also has a counter-rotating brush head so you can pull pet fur and other debris out of your carpets without a hassle. It comes with two attachments to make vacuuming a breeze.
These are a long and narrow attachment, and a wide scrubber, both of which help to make the Dyson Ball Animal 2 versatile for use around the home.
The Shark Rocket Pet Pro With MultiFlex is considered to be one of the best Shark vacuums. It can be used as a stick or handheld model, which is especially useful for different types of floors.
This vacuum is effective at removing debris and pet fur, while being especially good for pet owners because it's designed with a HEPA filter that eliminates allergens.
One of its best features is that it has a self-cleaning brushroll that detangles hair without you having to do anything.
Potential Drawbacks of the Dyson Ball Animal 2
Some people who have purchased the Dyson Ball Animal 2 have reported that it feels heavy, so if you have to vacuum clean a large living space you'll get tired.
It's also quite loud, coming in at 78.1 decibels. Again, if you have to use the vacuum cleaner for long periods of time, such as because you're vacuuming a large living space, this can become an issue.
Potential Drawbacks of the Shark Rocket Pet Pro
The Shark Rocket Pet Pro doesn't come with a storage tool for the wall and it can't stand upright on its own, so it could be difficult to store it in the home.
While it comes with a power boost, this makes the battery only last for 10 minutes.
Related Questions
Are bagless vacuums better than bagged ones?
Bagless vacuum cleaners are better in that they're cheaper, less stressful to deal with, and lighter. However, vacuum cleaner bags hold onto more dirt and debris.
How long does a vacuum cleaner last?
Generally, you can expect your vacuum cleaner to last for about eight years.
Conclusion
If you need a vacuum cleaner, it's in your best interest to purchase one that will last you a long time and make cleaning your home take less time so that your spare time can be dedicated to things you really love doing.
Two of the best vacuum cleaner brands are Dyson and Shark.
In this article, we've looked at what they have to offer and how they compare when it comes to some of their best models.