Your house design should change a bit with the seasons.
When the weather warms up, you'll want to ensure you have comfortable, beautiful furniture to enable you to enjoy the season.
The same goes for your summer house – you should make it the perfect spot for relaxing and enjoying warm weather when outdoors.
What, exactly, is a summer house?
A summer house is a small sheltered area in the garden where you can enjoy extra living space and make the most of your garden.
It also looks really good from a style perspective.
With that in mind, let's explore some of the best and most essential summer house furniture to buy.
Top Summer House Furniture Essentials
Before you bring furniture into your summer house, you should think about what you really need.
To help you out, here are some furniture essentials.
Bring In A Small Sofa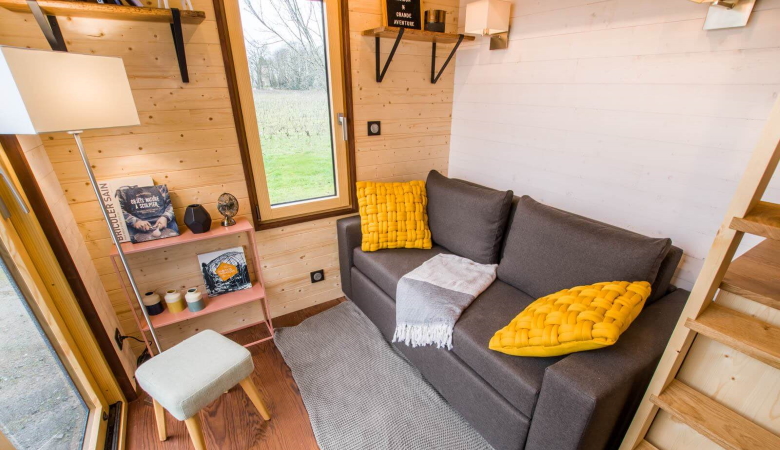 Your summer house probably won't be that large, so a small sofa will be perfect for it.
Make sure it's comfortable so you can spend long hours lounging around on it or reading your favourite novel.
A bonus of this sofa being small is that you can move it around easier, such as to the inside of your main house when the weather gets cold.
When shopping for a sofa, if you don't already have one you can use in your summer house, make sure you choose one that's made out of high-resilient foam as it's both comfortable and durable.
Don't forget to try it out in the store to check that it has a supportive back. An alternative to a sofa is to have an armchair or two. Make sure they're as comfortable as possible – they should make you want to curl up in them.
Use Folding Tables And Chairs
These are great for your summer house because they're light enough to carry around and they look charming. They're also easy to store when not in use as they won't take up a lot of space. If you have impromptu guests that arrive, pulling these out to accommodate them will be a breeze.
Buy A Rug
A rug is perfect to add a bit of warmth to your summer house and make it look cosy. A good tip is to use a rug that you no longer want in the main house. Upcycling decor and furniture items make sense because you don't want to have to spend a lot of money on your summer house.
Put Up Solar Lanterns And Fairy Lights
If you don't have electricity in your summer house, using solar lanterns to light it up can be a lovely way to enjoy your summer house in the evenings.
These will also provide a charming appearance and great ambiance when you entertain or just spend time relaxing with the family.
There are other ways to light up your summer house, such as by putting up fairy lights. These are not just charming, but they provide enough light and save space because you can string them across bookshelves, around potted plants, and other items.
Note:
If you want to run electricity to your summer house from your home, make sure that the connecting wire is protected by an armoured cable. This can be run above ground or placed in a trench.
The latter option is safer but will require a bit more effort on your part. Whatever you decide to do, it's always a good idea to get in touch with a qualified electrician who will be able to help you.
Get A Garden Table
A small garden table outside the summer house is the perfect place to socialise and enjoy the views in your pretty garden. This can be bought from your local garden centre or online, or you can upcycle an item you already have in the home, such as a coffee table or ottoman.
Install A Work Surface
You'll need to have a work surface, such as a table or desk, no matter what you intend to use the summer house for.
For example, it could be used for sewing, reading, entertaining, or doing some DIY tasks.
Therefore, having a small surface against the wall is always useful. It could even just be used to store some extra items so you don't always have to go to the main house for them.
Add Some Shelves
Speaking of storage, some shelves on the wall can come in handy in a summer house. These can be put in corners or they can take the form of floating shelves to save precious space.
You can also get creative with how you add shelving to your summer house, such as by propping a ladder against a wall and using that for nick-nacks and other items.
Don't Forget About Cushions And Throws
You can't have a sofa or armchair without making it cosy! Opt for some cushions and throws to give the space extra warmth and design appeal. These are especially useful for afternoon naps or when you're out in the summer house at night.
Relax In A Hammock
To make the space even more relaxing and save space, install a hammock in your summer house. This is a great way to enjoy being in it and it increases the amount of seating options for guests if you don't have a lot of room.
Treat Yourself To A Bed
If you want to be able to use your summer house as a holiday retreat, then a comfortable bed with pillows and blankets will be a real treat. A single bed is always good enough if you're short on space, or consider a bunk bed if your kids love "camping out" in the garden.
If you're keen on using your summer house for work and relaxation, a bunk bed that has a desk fitted underneath it is the perfect double-duty piece of furniture to own.
What To Do With Your Summer House
Earlier, we mentioned some wonderful uses for a summer house.
Let's take a closer look at what you can do with one and what furniture or items to put in it depending on its purpose.
Outdoor dining. Turn your summer house into the perfect eating spot! A table and some folding chairs allow you and your loved ones to enjoy meals in the garden. You can also cook on a gas stove or barbecue on an open fire. Make sure you have some shelves or cabinets for all your dinnerware.
Man cave. Your summer house can become your man cave if you don't have enough space for one in the main residence. Fill it with a comfortable sofa, bar fridge, microwave for snacking, kettle, and coffee machine. Small game tables, such as air hockey tables, will turn it into a fun time for all.
You can also turn your summer house into a handy workshop, equipped with a worktable as well as shelves and cabinets for storing all your tools.
Home gym. Why not make use of your summer house to get the perfect summer body? By storing your treadmill or other exercise equipment in here, you'll free up space in the main home while having a great spot to exercise. Sync up a wireless speaker so you can listen to your favourite music while burning up a sweat, and don't forget to install some hooks on the wall. These are perfect for hanging towels. Lots of windows to let the cool breeze inside, or a small fan, will help to make you feel more comfortable.
Home office. Setting up a home office in your summer house is really easy. You might not even need any power sources if you're using your laptop battery and personal hotspot to get onto the internet. All you need is a comfortable desk and work chair, some shelves or desk drawers, and you're set. Extras such as a small coffee table or side tables also come in handy. A good tip is to place your desk next to a window so that you'll have relaxing, inspiring views of the garden outside.
Guest room. If you don't have enough room in your main home for when guests come stay with you, you could use your summer house as a guest room. Make sure you decorate it in such a way that it's comfortable, such as with blankets, a comfortable and supportive bed, chairs and tables, and extras that will make people feel good to stay there, such as adequate lighting and power banks so they can charge their devices during their stay.
Extra Tips For Decorating Your Summer House
When designing and decorating your summer house, it's good to bear in mind some important tips.
These include the following:
Don't limit yourself to house furniture. Since the summer house is in the garden, using garden furniture makes sense, like when it comes to those folding chairs and tables we mentioned earlier. You can find modern and attractive garden furniture items and these will be suitable for outdoor use.
Don't be afraid to add colour. You might worry about painting your summer house, but why not do it? You can even hang decorative items such as paintings on the interior walls if you like. If you can't, or don't want to, use paint or wallpaper on the summer house interior, you can bring bold, bright colours into the house in the form of decor items such as cushions, pillows, throws, or colourful furniture pieces.
Choose double-duty items. When adding furniture to your summer home, it's good to choose items that can double up as other items. For example, ottomans that can be used as coffee tables and for extra storage are practical. This is useful because your summer house might not be that large.
Opt for blinds or curtains. If your summer house gets a lot of sun, you want to prevent it from becoming too hot, so it's worth investing in blinds and curtains. Of course, even if your summer house isn't getting tons of warmth, these will add more privacy to it. But bear in mind that blinds will be lighter and brighter than curtains. Whichever one you choose, to make your summer house look larger you should invest in curtains or blinds that are in light colours.
While it's not linked to the decor and furniture that you put inside your summer house, having a trail from the summer house to the main house is a pretty way to link them together. It also makes walking to the summer house enjoyable.
Related Questions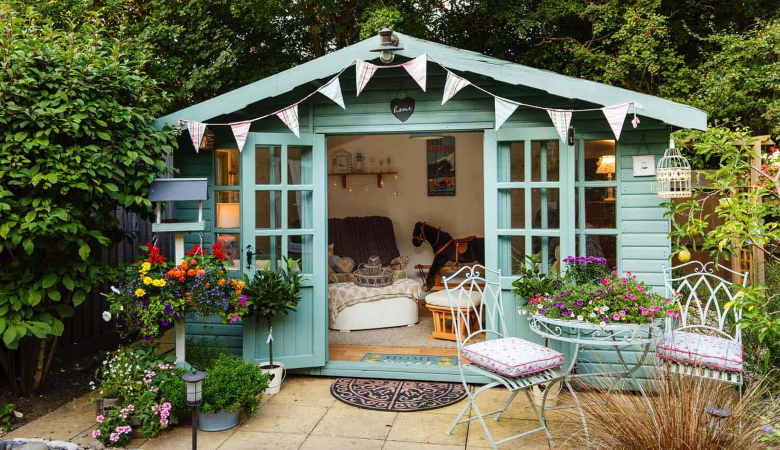 Do you need planning permission for a summer house?
If the house covers over half of your garden, isn't meant for domestic use, is more than three metres high with a pent roof, or is over four metres high with an apex roof, you might need permission.
You definitely will if it's within two metres of a boundary and over 2.5 metres high.
Does your summer house need foundations?
Foundations will make your summer house last longer because they will protect its base and prevent it from absorbing moisture from the ground which can lead to decay and rot.
Conclusion
A summer house is a valuable place to relax, enjoy the warm summer days, or have a living space that you can turn into a home study, office, workshop, or dining area when you entertain guests.
In this article, we've looked at some of the most essential items you need in your summer house. We've also covered some important information you need to know about if you have a summer house but you're not sure what purpose it should have.
These tips will ensure that you spend more time in your summer house when the weather's good and less time wasting the beautiful warm days!
Resources
Argos.co.uk
GardenBuildingsDirect.co.uk