If you want to stay cool during hot weather or heat waves, you'll want to purchase a fan.
Tower fans and pedestal fans are some of the tallest fans you can buy, but they do have some important differences.
What's the main difference between tower and pedestal fans?
Tower fans release air all along their height, while pedestal fans blow air from the top.
Both of these types of fans have their advantages and disadvantages.
Here's what you should know about them.
What Is A Tower Fan?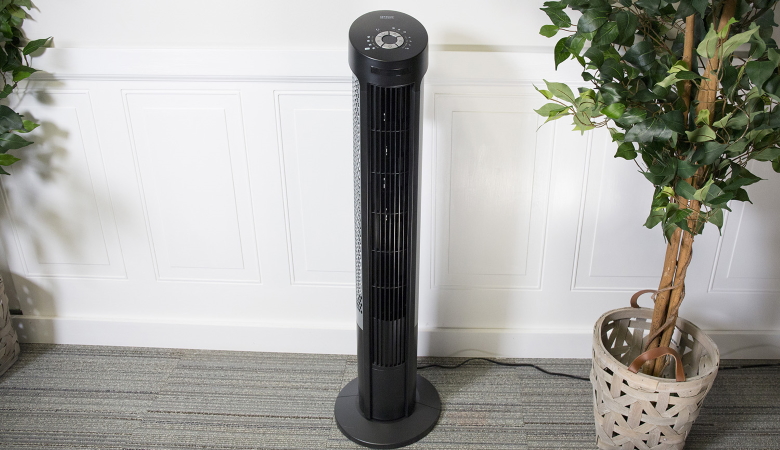 At first glance, a tower fan is designed to fit into your room's decor because it doesn't look like a traditional fan.
It's tall and sleek, so it's also compact and can fit behind furniture or in corners of the room without taking up a lot of space. Generally, tower fans will be 30 to 40 inches in height.
A tower fan circulates air at a 90-degree angle while oscillating on a stationary base that's about a square foot in size. However, you can find tower fans that oscillate at 360 degrees, so they're ideal for being positioned in the centre of the room.
You'll find that tower fans come in either blade or bladeless designs. When it comes to bladeless fans, they have tubes that conduct airflow at higher speeds from slots in front of the fan.
They are better than tower fans that use motorized blades to circulate air because they are quieter and have fewer components that you need to clean to ensure that the fan stays in good condition.
What Is A Pedestal Fan?
By comparison, a pedestal fan has a long, thin stand on top of which are oscillating blades.
How it works is that an electromagnetic field is produced between the stator and rotor which causes the rotor to turn. The blades will spin and send airflow out into the room.
These fans are easy to move around the room to where you need them to work. Since the head of the fan can oscillate from side to side and at different speeds, this produces good airflow in the room.
You can also find pedestal fans that tilt backwards at an angle, to further help you direct the airflow to where you want it.
Tower Fan Vs Pedestal Fan: Which Fan Should You Choose?
Now that we've looked at what tower fans and pedestal fans are, let's explore them in greater detail by looking at their individual pros and cons.
Tower Fan: Pros And Cons
Pros
Tower fans have built-in filters. These help to attract pollen, dust, and pet dander and keep it out of your indoor air so that the air you breathe is healthier.
Tower fans are quiet. They are said to be quieter than other types of fans because the noise they emit is only about 40 to 60 dB. FYI, 40 dB is considered to be the noise level in a library, so it's very quiet!
They can be put in smaller spaces and since they come in a variety of designs and styles, they will work well with a variety of decor styles.
They have blades that are inside the unit so that the fan isn't fragile and will be less likely to become damaged. This also makes them safer for use around kids or pets.
A tower fan is easy to clean because of its blades being hidden. This also makes it less likely to attract and accumulate dust.
Cons
This type of fan is most appropriate for smaller rooms as it's not as powerful as pedestal fans which are more ideal for larger spaces.
It gives you fewer options for directing the air flow as compared to the pedestal fan.
Pedestal Fan: Pros And Cons
Pros
You get air flow where you want it. Since you can adjust where you position your pedestal fan, as well as how much it oscillates and tilts, you can get powerful air circulation in the area where you need it the most.
Since pedestal fans have large blades, these make them quite powerful.
You can find heavy-duty versions of pedestal fans on the market, which are ideal for when you need larger and more powerful air circulation, such as if you're working in a garage.
They're highly portable. You can find pedestal fans that are made of plastic or steel. The plastic ones are easy to move around, (while the steel ones are obviously more durable).
Cons
Since the pedestal fan's upper body is quite large, you have to ensure your room has a large enough space for it. It's not always easy to place a pedestal fan in a small room, especially if it oscillates instead of being fixed because it will then take up more space.
Since it makes use of blades, this type of fan is noisier than a tower fan. It has between 60 and 70 dB. This can make it less pleasing to use if you need to cool down your bedroom at night or use it in another room of the house where you want to be as quiet as possible.
These fans have grill covers over their blades, but children's fingers can fit through the holes, which is dangerous. In addition, since they're heavier on the top, this can make them dangerous if knocked over by pets or children.
Best Tower Fans And Pedestal Fans To Buy
By now you probably have a better idea of whether you should purchase a tower fan or pedestal fan.
Which models are good to buy?
Let's explore some of the best and most popular fans in these two categories.
Best Tower Fans
This fan has many positive reviews, and for good reason.
It's very quiet, so it's perfect for use in the bedroom or office, and has three speed settings so you can better control the amount of airflow in your home.
It also comes with a programmable timer so you can turn it off when you want as well as a remote control to make it convenient.
This is especially good for use at night so you don't have to keep going to the fan to change its settings. It also looks good with its slim and sleek design and blend of silver and maroon colours.
This fan comes with a touchscreen but it offers other ways in which to control it – you can make use of the remote control that comes with the fan or use the Ozeri mobile app to turn your smartphone device into a remote control.
This tower fan comes with three small fans along the length of its sleek body, and you can use them at the same time or use just one at a time, giving you greater versatility. The fans have canted blades which helps to reduce the level of noise they produce.
An extra feature you'll love is that this fan has a multi-coloured LCD screen that shows you what the room temperature is so that you can see how well the fan is working to keep your environment cool.
This sleek black tower fan has three speed options and you can also toggle its oscillation feature. It comes with a convenient remote control so you can control it at a distance – up to 16 feet away!
It's extremely compact so you can move it into any room in the house when the temperature soars. This fan also comes with a 15-hour programmable timer for added convenience.
Best Pedestal Fans
This fan is one of the best pedestal fans on the market.
Not only does its blades oscillate to improve air flow around the room but it can also be tilted backwards so that you can better direct where you want the air to go.
You can adjust the fan's stand from a height of 38 to 54 inches. It also has a built-in safety feature: there's a fuse in the plug of the power cord so that if an electrical fault is detected it will block the electric current to the fan.
You can move this fan into any room of the house, thanks to how it's both light and portable.
If you're looking for a pedestal fan that you can customise, you'll love this one by Honeywell. It has five speed settings to choose from, which makes it ideal for a variety of rooms in the house because you can also adjust the volume and cooling capacity.
It has a "sleep mode" feature that enables really quiet operation so you won't be irritated by a loud noise when you need this fan in the bedroom on hot nights. While pedestal fans can be tricky to clean, this one has a removable grille to make that chore easier.
It comes with a remote control so you can adjust it from the comfort of your couch or bed, which makes it a pleasure to use.
This pedestal fan has both oscillating and tilting features to increase the comfort in your home because it gives you more options when you want to direct the airflow to where you need it.
To prevent kids from sticking their fingers through the blade cover, this fan has a safety grill. Its height is adjustable and it offers quiet operation even on its highest setting. This fan is easy to assemble and it has an Energy Class A+ rating.
So, Which Type Of Fan Is Best For You?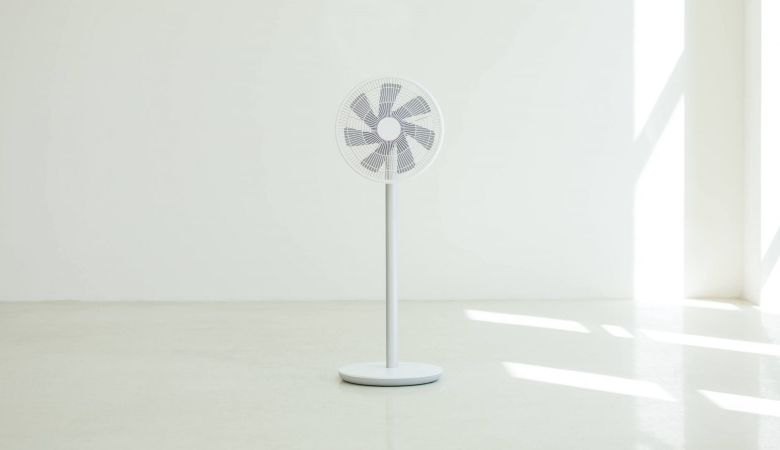 It's clear to see from our pros and cons section and fan recommendations that both pedestal and tower fans have their merits.
This can make it difficult to choose the best one for your home, so it's worth considering the following factors before you buy a pedestal or tower fan.
How Much Space Do You Have in Your Home?
If you need to cool down a large room a pedestal fan is worth purchasing, while smaller spaces can benefit from the compact usage of a tower fan because it can fit into really tight corners.
Do You Need Healthier Indoor Air?
If you worry about allergens and air pollutants in your home environment, or you have allergies, you will want a tower fan that contains a filter to clean your indoor air.
Do you have kids?
If your kids are at an age where they're curious, you might want to choose a tower fan instead of a pedestal fan because of how its blades are usually contained within the body of the fan.
Do you need a powerful fan?
If you really battle during the heat, you might want a powerful fan. In that case, you should choose a pedestal fan. You can also opt for heavy-duty pedestal fans that really go the distance when it comes to cooling down your home.
Related Questions
How much does it cost to run a fan all night?
It will cost approximately £1 to run a fan for 12 hours every night for a whole week, but that's with the highest wattage fan.
Does owning a fan make more sense than an AC unit?
Yes, because it's portable and you can use it exactly where you need it, while saving energy and costs. In a survey, people in the UK stated that they avoid AC because it's expensive to run, bad for the environment, and a bit unnecessary because of the climate.
Conclusion
If you need to purchase a new fan, you might consider a pedestal fan or tower fan.
These are both worthwhile to buy, but they do have some important differences that you should know about. In this article, we've outlined their respective pros and cons so you can choose the best fan for your needs and lifestyle.
Resources
CoolingFanReview.com
Metro.co.uk
Which.co.uk