You might assume a walk-in wardrobe is something left to celebrity homes, but having one in your humble abode can come in very handy.
For starters, it will ensure better organisation of your belongings as well as provide you with more storage.
How small can a walk-in wardrobe be?
A full-size walk-in wardrobe for two people should have 100 square feet minimum in it, but you can have walk-in wardrobes that are as small as 25 square feet!
Although that's promising, you might wonder if it's really necessary.
Should you have a walk-in wardrobe in your home, or is it a waste of space, however small?
Let's find out.
What Should You Have In Your Walk-In Wardrobe?
You know you'll use the space in your walk-in wardrobe to store your clothing, shoes, and accessories, but how are these areas of the home generally designed?
Here are some components that you'll usually find in a walk-in wardrobe.
Hanging space. You need to have lots of hanging space so that you can hang your clothing instead of storing it in cluttered drawers. This will make it much easier for you to see what clothing items you own at a glance, making getting ready in the morning a much quicker task.
You'll obviously need drawers for a variety of items. These include ties, jewelry, underwear, and more.
While you might think drawers and hanging space will be enough storage, don't underestimate shelves. They can be a great place to store your bags and shoes. They'll also put such items on display so you can see them quickly.
Extra items. There are some extra items that you'll probably want to consider having in your walk-in wardrobe. What about a stool or chair so that you can sit and try items on? What about a dressing table? If you have the space for it, this can be a fantastic way to make your walk-in wardrobe even more useful and enjoyable to use. A mirror is another item that will come in handy in a walk-in wardrobe, but if you have a good full-length one in the adjoining bedroom having one in the walk-in wardrobe is probably not a necessity. Finally, consider a ladder so that you can climb up to reach for storage boxes or shoes on display if you have a lot of vertical space in your walk-in wardrobe.
There's nothing worse than a dim walk-in wardrobe. You want to be able to see your items that are on display as well as find items in drawers. Good lighting will also help you when you try items on and look at yourself in the mirror. You might want different lighting in different areas of the walk-in wardrobe, such as softer lighting over the mirror and spotlight lighting for items on display.
Pros And Cons Of Walk-In Wardrobes
To help you decide if you should have a walk-in wardrobe in your home or not, let's explore some of its pros and cons.
Pros
A walk-in wardrobe will keep your items more organised. Not only will a walk-in wardrobe help you to find clothing items much faster and easier, but you'll also acquire more space for your shoes and accessories to prevent clutter in your cupboards.
They increase your privacy. You won't have to worry about being disturbed when you're changing your clothes and getting ready for the day because you can quickly step into your walk-in wardrobe and gain some privacy.
Walk-in wardrobes can actually increase your space. While you might assume they will make your bedroom space smaller, these wardrobes can help to make the most of space, such as in the case of oddly-shaped bedrooms where extra space goes to waste.
They add value to your home. If you're considering selling your home in the future, a walk-in wardrobe can help to increase its value. Even if it doesn't, it's a special feature that can help you achieve your asking price. Interestingly, walk-in wardrobes are said to be a necessity instead of a luxury these days.
They can make your items more secure. If you use your walk-in wardrobe as a safe space for your expensive items, this can keep your possessions much more secure than if they're in an open bedroom. Just make sure you install security features such as strong locks on the door!
They keep your possessions in good condition. When you have the space in which to store your clothing, shoes, jewelry, and other items in a much more organized way, this ensures that they're kept in excellent condition, which will increase their lifespan.
Once you have the space built for your walk-in wardrobe, you can always use it for something else in the future, such as general storage to decrease house clutter.
Cons
Walk-in wardrobes can end up being expensive. Not only do they require good lighting otherwise you won't be able to see all the items you want to have handy, but they will also require cabinets, cupboards, carpets, and other types of storage. If you're going to be using your walk-in wardrobe as a dressing room, you'll also have to consider a stool or chair as well as a mirror.
You'll miss out on space elsewhere in the home. Even if your walk-in wardrobe is going to be really small, it will still need to take up some space that perhaps could have been put to use to increase the size of your bathroom or bedroom.
If you want a large walk-in wardrobe, you might find it ends up looking sparse if you don't have the items to fill it. This is a waste of space!
They can actually increase the amount of clutter you have in your bedroom. A walk-in wardrobe isn't automatically going to produce less clutter. If you're not very organised, they can quickly become a
You might not have enough space. If the space you wish to turn into a walk-in wardrobe is really tiny, then it's not worth it to have one. For starters, you might not even have enough space to hang clothes, bearing in mind that you'll need a wardrobe depth that's between 14 to 24 inches. Most of your clothing items will be able to fit inside a 24-inch space. If you try to fit clothing items in an area with less depth, you might battle to do so because some of them will protrude out of the walk-in wardrobe.
How Much Do Walk-In Wardrobes Cost?
If you've analysed the pros and cons of walk-in wardrobes and you've decided that you're going to go ahead and have one in your bedroom, you'll want to know how much you can expect to pay for it.
A walk-in wardrobe can cost between £5,600 and £11,500. The average price, with labour included, is said to be £8,550.
There are things that can increase the price of a walk-in wardrobe, such as if your wardrobe is unusually-shaped and needs to be custom built, or if your wardrobe has many elements in it, such as when it comes to shelves and other storage space.
Another important factor that can bump up the walk-in wardrobe price is if your current wardrobe or space that you want to turn into a walk-in wardrobe is in bad condition and requires renovating. This will have to be done before a walk-in wardrobe can be built.
Related Questions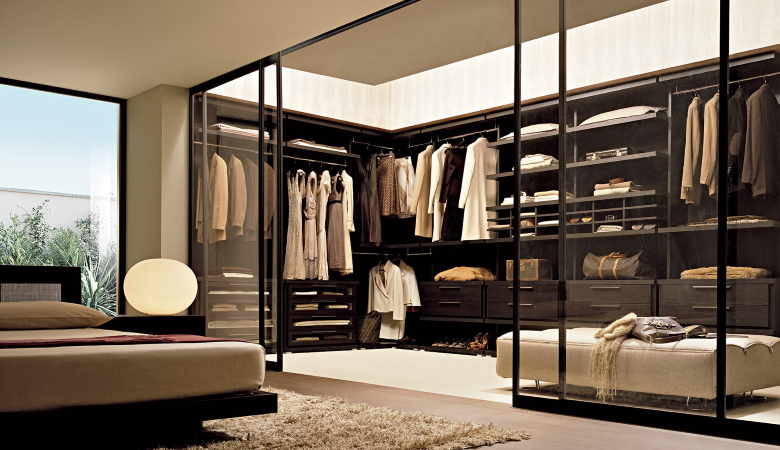 What are some good lighting options for walk-in wardrobes?
LED lights are excellent for when you want to look at your clothing garments, but spotlights are also worth including in your walk-in wardrobe's design because of how they can be directed onto specific items you have on display.
How should you store seasonal items in your walk-in wardrobe?
Storage boxes come in handy for seasonal items that you don't use all through the year. Keep them high up on a top shelf so that they're out of the way but still within reach when required.
Conclusion
Having a walk-in wardrobe offers many benefits, such as giving you more organised storage space and ensuring you have room for all your expensive possessions.
That said, it does have some potential drawbacks to consider.
In this article, we've outlined the pros and cons of walk-in wardrobes to help you decide if you should have one built into your home or not, as well as how much you can expect to pay for it.
Resources
Forbes.com
Checkatrade.com
Houzz.ie